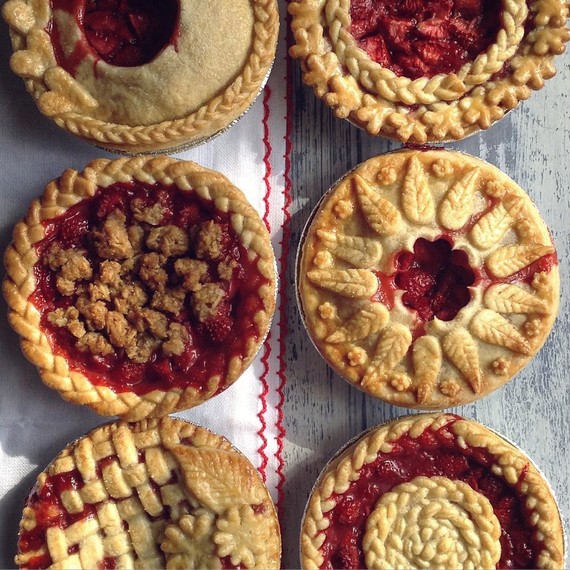 Jo Harrington is a woman with a tasty mission: bake the perfect pie. And from looking at her Instagram feed (@jojoromancer), we'd say things are going scrumptiously. 
Growing up in Canada, Harrington's mom was a keen pie baker but when Harrington started making pies she noticed they never came out quite right; too flakey, not flakey enough, or even not cooked through. In August 2015, while in-between jobs as a digital strategist, Harrington decided it was time to perfect the art of pie. She started her culinary challenge to make three pies a week and is still going strong. 
(BAKE: Every pie -- from rhubarb to rice! -- with our ultimate collection of recipes)
"I started with a basic pie, but as time went on, I got more crafty with my designs," says Harrington, who keeps a tiny notebook for jotting down pie ideas. While she's often inspired by art, architecture, nature, or old childhood memories, Harrington admits, it isn't always obvious. "Sometimes, when I don't have an idea, I just roll out some pastry, stare at it, and wait for something to strike!"'
(SEE: How to make the ultimate crust for your pie)
Since she began posting pie pics, Harrington has gained a massive online following (over 51,000) Fellow bakers often message her for answers to their pastry problems. One follower even asked if she could fly to visit Harrington who lives in London and bake with her. Though that meeting didn't pan out, other followers have flown to meet Harrington and swap baking tips over coffee -- and pie!
Her preferred pie? "Fruit! You can't beat some quality fruit with a bit of sugar and a pinch of spice." says the loyal Martha fan (For the record: Martha's favorite pie is apple.) 
We were curious what she does with all those pies? (Not all the pastry even makes it to Instagram!) "There are definitely friends and neighbors around more than happy to take some off my hands," says Harrington. "But some have been so good, I've managed to polish them off by myself in just a few days." 
Keep an eye out for Harrington's special Easter pie on Instagram this weekend.
Now watch Martha make her next-level apple pie: