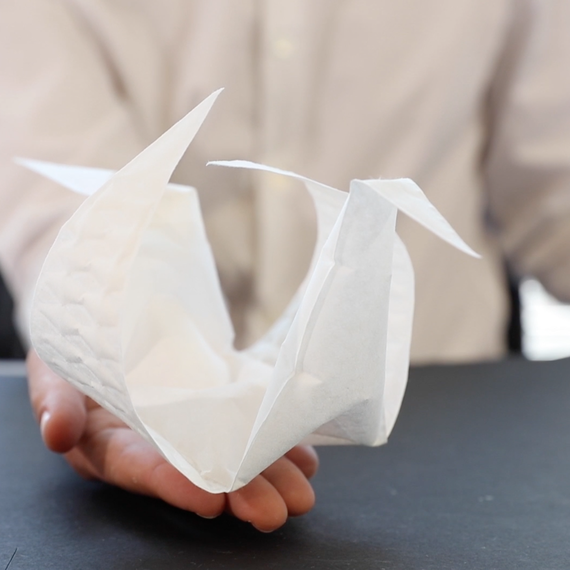 Mastering the Japanese art form of folding paper into elaborate shapes — aka origami — can take some time to master. However, with an upcoming innovative invention, soon we'll be able to have the handy heat-sealing machine do all of the hard work.
The MIT Media Lab announced the creation of a craft helper like technology that is able to turn plain pieces of paper into 3-D shapes via inflation. This newest technological advanced concept is called aeroMorph. Without getting too "tech-y" on the terminology, any 3-D shape will be a possibility. First, the intend shape is planned in a computer software program. Next, the designs are transferred to a self-heating machine. This machine has the capability to create the intend design by inflating and bending the paper, plastic, and or fabric. It's said by the inventors that you'll be able to create toys, packaging, as well jewelry among other things. (By other things, we're thinking crafts and home projects.)
[TRY THIS: Make Your Own Set of Origami Bowls]
If you're already crafty with paper and cardstock, you know that folded geometric shapes and figures are really popular. AeroMorph recognizes the geo-shape trend too, saying, "We developed a software tool that generates this bending mechanism for a given geometry, simulates its transformation, and exports the compound geometry as digital fabrication files."
While crafting your own honeycomb origami planters is an easy spring weekend project, the prospects of a machine being able to fold either paper, fabric or plastic material into a planter is so intriguing. Lastly, the mention that this new gadget is able to fold fabric into fun intricate shapes has us thinking about taking our napkin folding skills to the next level. True, with a bit of practice this lotus flower napkin fold can be mastered. However, with the help of the aeroMorph, the napkin folding art form can be achieved much quicker.
Want to learn more? Watch how it works: