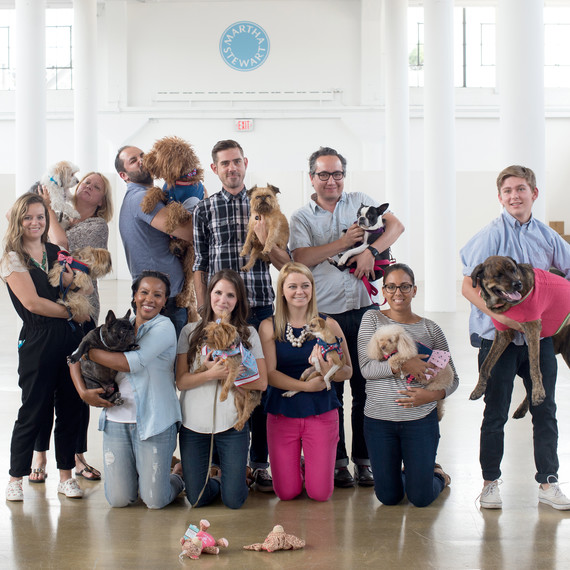 In honor of National Pet Day, it seems fitting that yet another company — this time, it's HarperCollins India — has announced that they will be offering a five-day paid "pawternity" leave for their employees who become new pet owners. They join Scottish brewery BrewDog, UK tech company BitSol Solutions, and Mars Petcare — all companies that offer their workers the option of paid leave to spend time with their new furry friends. 
"At HarperCollins, we want the very best of work-life balance for our colleagues, and that includes being mindful about their family needs," Ananth Padmanabhan, chief executive officer of Harper Collins India, told HuffPost India. "Pet children need as much attention [as human children], if not more. We don't want colleagues to worry about the number of leaves they have before deciding to start a family." Not only will the publishing house be giving their new pet owners paid leave, but they have also created a pet designated area in the office for those who would like to bring their pets to work. What a great working environment! 
[READ ALL ABOUT :The #1 Reason "Bring Your Dog to Work Day" Should Be Every Day]
You might be wondering why "pawternity" leave is a growing workspace trend — and what it is! Just like with a newborn baby, when you bring a pet home for the first time, you're introducing it to a whole new environment that requires an adjustment period. Giving new pet owners five days of paid leave is beneficial to helping them house train their pet, acclimate them to their new surroundings, and bond with them. No one likes leaving their pet at home crying. Pawternity leave helps new pet owners ease their guilt, especially since most companies that offer pawternity leave allow pets in the office as well.
Here at Martha Stewart Living, we're big fans of animals too! In fact, Martha Stewart herself is known to arrive to the office on any given day with her dogs. (We can't wait to meet Martha's newest addition to the family, Empress Chin!)
[MEET: All of Martha's Pets]
Now, we just need to get other offices on board! If you had a new pet, would you take pawternity leave?
Watch what happened when we celebrated "Bring Your Dog to Work Day" at the offices of Martha Stewart Living: