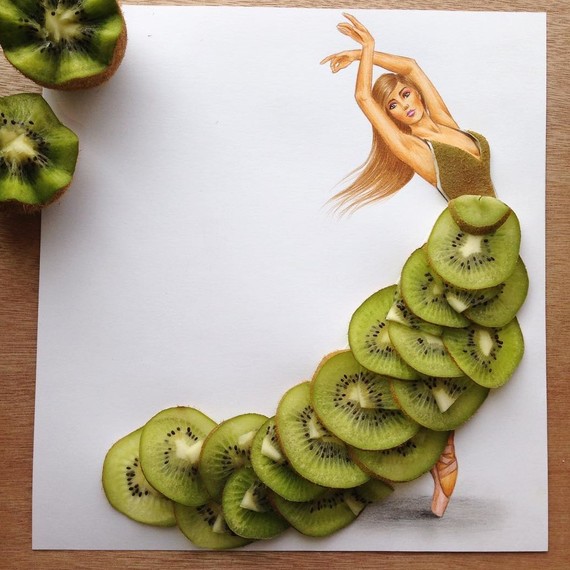 We thought we had seen it all after coffee painted portraits and pancake plants, but an haute couture dress fashioned out of fries? Or an omelette and scallion gown? For one Armenian fashion illustrator, nothing edible is off-limits when it comes to creating art. 
 
From forks and spoons to pomegranate seeds and coffee beans, Edgar Malkhasyan's (@edgar_artis) work might have you do a double take. But the 22-year-old (and Martha fan!) admits that's the best part about his pieces. "I like to show people that even simple things can be beautiful. Sometimes, we just need to look at it from a different angle." 
While he had always loved drawing as a kid, Malkhasyan never officially pursued art school. In fact, when he grew up, he hoped to be a singer. But after he started sharing his hobby art on social media in 2015--now with a loyal Instagram following of over 550,000 -- the self-taught artist had a new dream.
Soon, he was toying with three-dimensional possibilities, styling his first dress out of tulle and later moving onto household objects like toothpaste and to foods including loose tea, cinnamon sticks, and flour.
"I find inspiration from everywhere, from walking down the street to seeing something in a store" says Malkhasyan, whose work recently garnered him an invitation to study at fashion school IFA Paris this fall. 
(SEE: These stunning maps made entirely out of food!)
Once he finds his next "fabric", he begins each dress by first drawing the model and determining her stance to best highlight the dress' textures. A single piece can take from as little as two hours to as many as eight.
His favorites so far include dresses fashioned from rope, bent forks, and pencil shavings, but Malkhasyan says he's proud of all of them. "I call these little creations my imperfect perfections!"