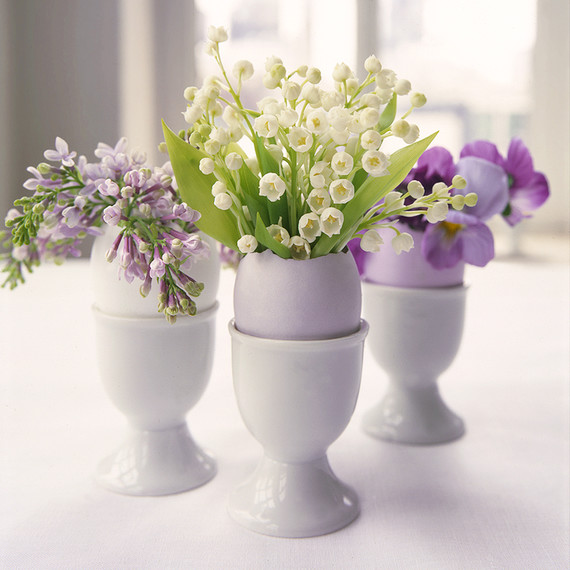 Every spring, we're on the hunt for unique ways to transform plain eggshells into something that is so spectacularly "spring." Aside from pretty pastels and glitter galore, what else can you do to really make your eggs stand out?
1. Grow Something New
What if you included petals into the yolky mix? Yes, flowers and eggshells (leave the yolks for baking) can make for a pretty pairing. Display teeny-tiny flower arrangements inside eggshells. This creative decorating twist is so easy you'll "crack" a smile just thinking about the infinite floral arrangement possibilities.
[TRY IT: Flower Arrangements in Eggshells]
2. Rethink Your Easter Basket
And not just baskets — table centerpieces too! Think pastel-dyed eggshells paired with tiny African violets, lily of the valley, and lilacs as the flower selection sprouting from the cracked shell. It's so simple, it's beautiful. Transforming a few large-sized eggs into delicate baskets holding a few buds will make you the Martha of your home.
[TRY IT: Easter Eggshell Basket]
3. Light Things Up
Who knew you could turn them into small candles? Turn a whole batch into a grouping of votives. The kicker (or in this case, the "cracker") is that your tiny flames will be cradled inside a dozen of vibrantly colored eggs doubling as candles. Voilà!
[TRY IT: Eggshell Votives]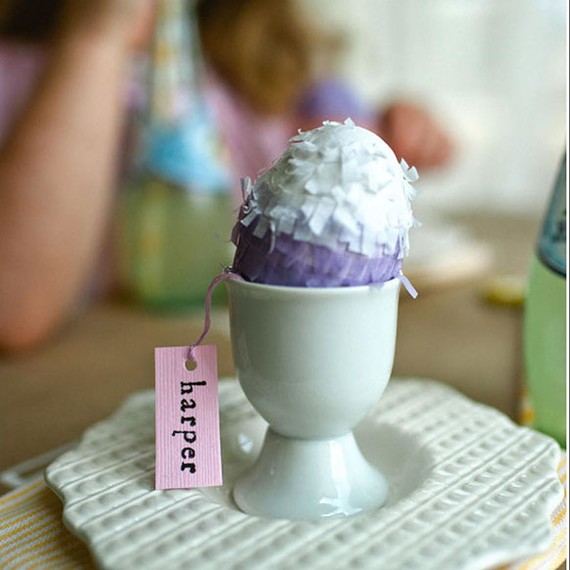 4. Make Them Pop
... with confetti popppers, that is! If you're on the hunt for eggs to add to your Easter egg hunt and need a few creative clues, check these out! Instead of hiding plastic eggs opt for handmade confetti surprise eggs. Actually, confetti-filled eggs are a long-celebrated Mexican tradition. A wish is to be made as a friend cracks a confetti eggshell over your head — pretty cute, right?
[TRY IT: Confetti Easter Egg Poppers]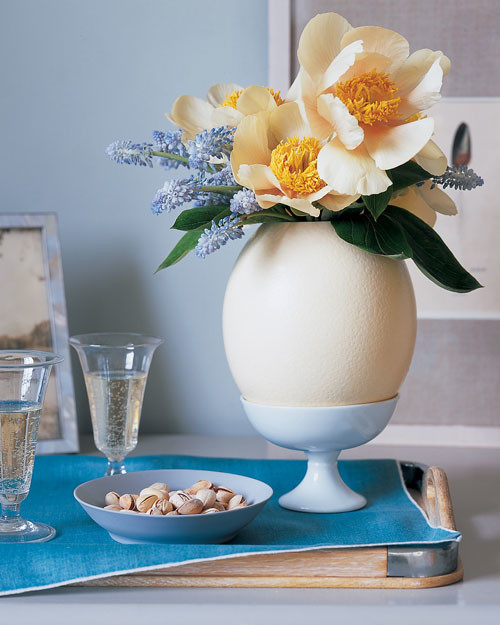 5. Make a Big Statement at Your Table
Thinking of hosting a springtime supper? Naturally, you'll need a big idea for a centerpiece. Look no further than a larger-than-life spring natural flower vase for your upcoming party. It's made from an oversized eggshell. Get crackin'!
[TRY IT: Spring's Natural Vase]
Looking for more Easter egg ideas? Watch how to make fabric-wrapped eggs, perfect for covering a cracked shell: