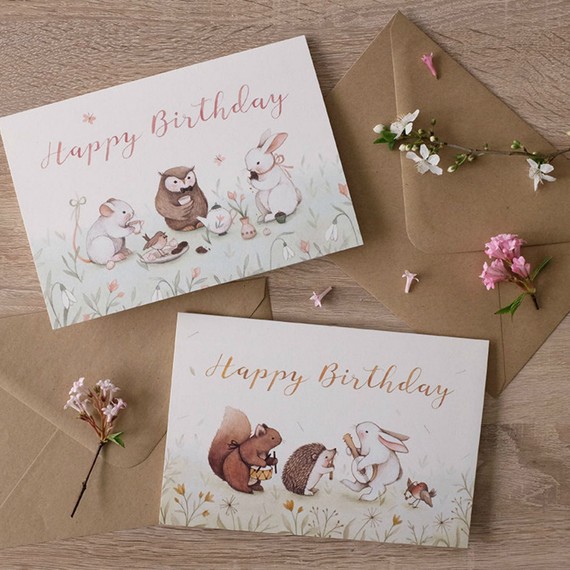 Which comes first: spring or springtime animals? You may have already noticed all of the pink and yellow blossoms popping up in abundance this time of year. Aside from new florals, there's also a range of newborn baby animals too. Whether you are hosting a springtime celebration, Easter brunch, Passover dinner, or shower of some kind, you can always look to nature for seasonal inspiration.
One artist, Nina Stajner has a recent watercolor series featuring a sequence of whimsically painted baby animals called "Meadow Patterns." In her seasonal illustrations, everything from sweet baby hedgehogs, slumbering fawns, and tiny white bunnies leap into springtime accompanied by prettily painted flowers. The best part? Her illustrations are versatile. Meaning, her artwork can be turned into wrapping paper, notebooks, cards, invitations, Easter basket gift tags, and anything else needed to transform your springtime celebration into one celebratory baaaa-sh (you, know as a lamb would say.)
We think Nina's meadow illustrations (whether they're turned into paper placemats or seating cards) would delightfully pair well with this Martha Stewart tissue paper pom-pom sheep decoration DIY rather nicely. What could be cuter than lambs, bunnies, baby squirrels, and tiny playful field mice all frolicking together at one soiree? We can't think of any!
[DON'T MISS: These Perfectly Embroidered Bunnies Hopped Out at Us Just in Time for Easter]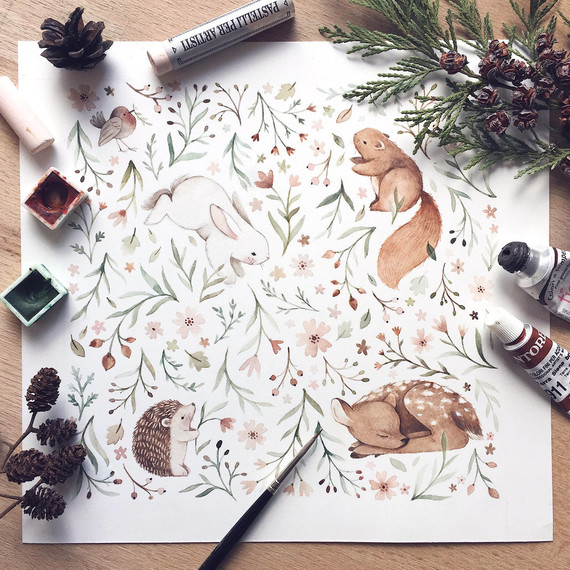 Framing Nina's petite meadow leaping bunny print would make for a lovely centerpiece accompanied by a marshmallow embellished bunny carrot cake. Together, springtime doesn't get any sweeter — not to mention, one of these bunnies have an edible cotton candy fluffy tail. Just for kicks, (or in this case, hops) if you've already mastered the art of the bunny napkin fold perhaps, it's time to hop a step further. Embellishing your bunny napkin art with a few petite baby animal enamel pins might upgrade your spring table to new festive heights. Yes, along with Nina's paper artwork, she also designs pins in the same whimsical woodland style.
With spring's arrival, it's now time to take advantage of the new colors, desserts, and crafts to liven things up a bit. It's your call, whether you turn Nina's meadow illustrated gift wrap into dessert labeling cards — in case you decide to whip up a batch of nesting baby-blue bird cupcakes. Or opt to create a paper table runner for your Easter buffet. It's spring, so, the options are limitless.
Feeling inspired? Try your hand at making these floral-printed Easter eggs: