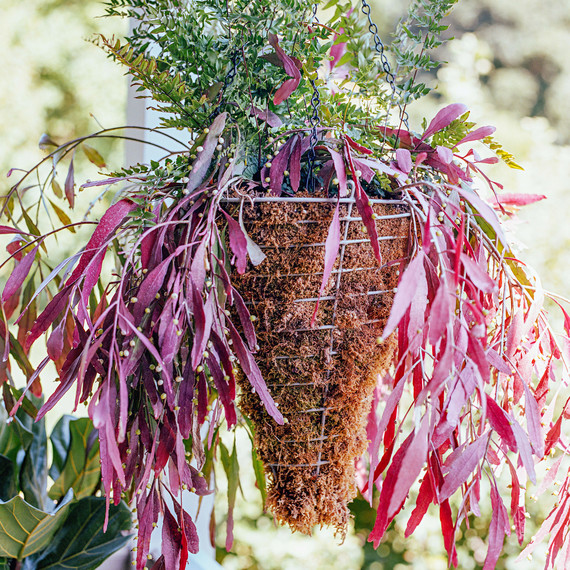 Grandma's hanging baskets were beautiful -- cascades of fuchsias in bright pink and magenta; balls of vivid blue and purple lobelia; fluffy spheres of small flowering petunias in the newest hues of lavender and yellow; white-eyed Bacopa; soft begonias in myriad shades of red, peach, and cream; black-eyed Susan vine (Thunbergia alata); trailing pelargonium; geraniums; and even mounds of delicate sweet alyssum.
These baskets were hung along the roof overhangs of wicker-furnished porches. They were watered and fed, and groomed and deadheaded daily to keep them vibrant and fresh. I always loved the look of these baskets, but long ago realized that my busy lifestyle does not allow me to care for them in the same way my grandma did. There were so many times when I was gone for a few days and the blooms and vines shriveled from lack of water. More often than not, this inattention would require me to replant the baskets and start over again. 
(LEARN: How To Make a Hanging Basket with These 6 Steps)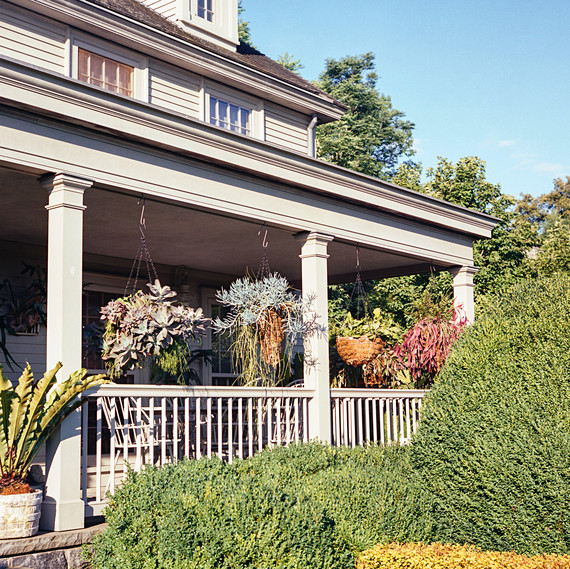 I have now discovered the solution: Plant baskets with different, less thirsty breeds of plants -- ones that don't require such frequent care, will stay verdant despite a bit of benign neglect, and will elicit as many "oohs and aahs" and exclamations of pleasure as the most spectacular lobelia-packed globe.
It may take a bit of research to discover the very best plants for your area, but I have found that succulents -- senecios, trailing jades, burro's tails, and echeverias -- as well as Rhipsalis and staghorn ferns thrive in hanging baskets with minimal effort. Most of these varieties flourish with moderate feeding and watering, some judicious pruning, and, in the case of the staghorn ferns, a good spray bath every now and then.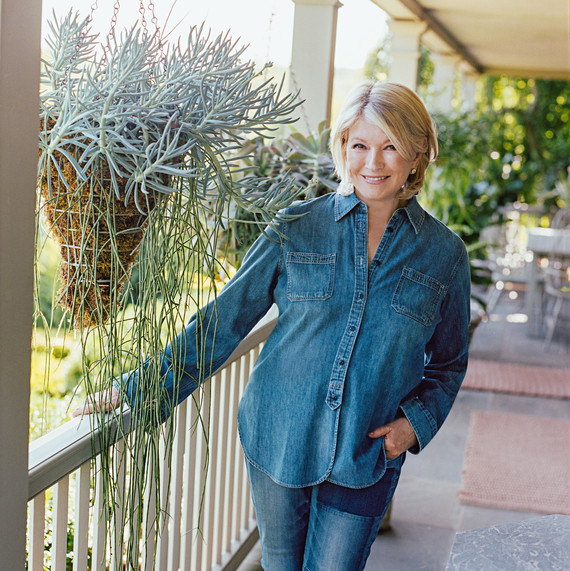 When selecting baskets, choose sturdy steel ones with strong chains (avoid any made out of plastic or flimsy wire, which can break), and line them first with beautiful moss, then with coconut coir, which will hold water and won't rot like straw or wicker will. Follow my steps here and soon you too will have a low-fuss hanging garden that you can enjoy for years to come.
Looking for another new way to plant? Watch how to grow succulents in a strawberry planter here: