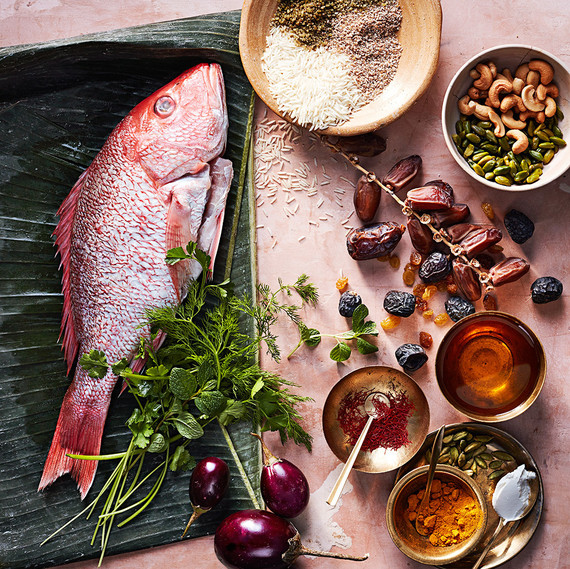 A few years ago I traveled to Dubai to launch our weddings magazine there. It was my very first visit to that part of the world, and I was enchanted with the desert, the markets, the hustle and bustle of the fast-growing cities and towns -- the intense activity everywhere.
Since that first trip I have been lucky enough to spend time in Qatar as well as Abu Dhabi, and have tasted many of the region's local dishes. Last year my friend Youssef El-Deeb called to ask if I would like to do a cooking series about foods of the Arabian Gulf. His directive: Take traditional dishes of the region and make them a bit lighter, healthier, and less caloric for a show modeled on what we do here in the States for public television. PBS airs Martha Stewart's Cooking School and Martha Bakes in that part of the world, and the content has been very well received.
My team and I loved the idea of delving deep into the foods of the Gulf. With the help of our television chefs Thomas Joseph, Sarah Mastracco, Jessie Damuck, and Samantha Seneviratne, along with producers Kim Miller-Olko and Greta Anthony, we spent about 12 weeks developing recipes, including adapting several from friends, that reflected our take on Arabic cuisine. Youssef and his team in Dubai were immensely helpful, most notably chef and TV host Hanane Ouaddahou, who came to New York during taping to make sure my Arabic pronunciation was clear and our use of spices and ingredients appropriate. (For example, we could not use pork, lard, or any alcoholic beverages.)

All in all, we developed 52 recipes covering a wide range of ingredients, and I am so pleased with the outcome. The shows were great fun to make, and the foods are delicious. I know they will become favorites in the Middle East as well as in America. Be sure to tune in to PBS when "Martha Stewart's Cooking School" begins its new season, on April 22. I hope you will have a chance to try some of these recipes at home, and enjoy them as much as I have.
Get the Arabian Gulf-Style Fish in Banana Leaves Recipe