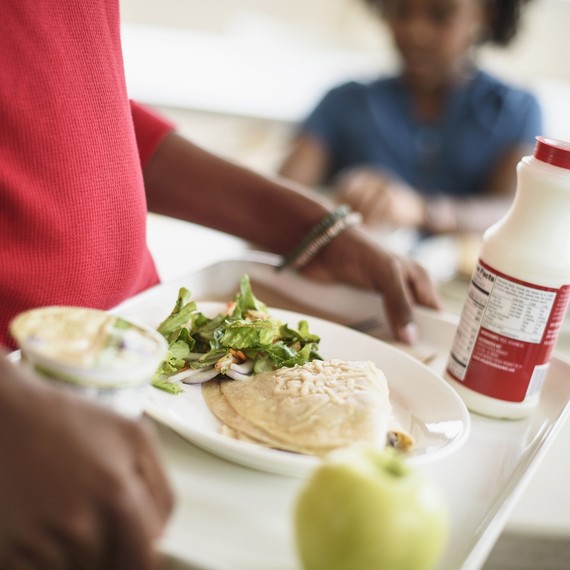 To help fight child hunger and curb food waste, some schools around the country have been hosting school lunch "share tables." As the name indicates, a share table invites students who have leftover, untouched foods -- unopened milk cartons, unpeeled bananas -- to put these foods into a bin or on a particular table. Any student who might otherwise leave hungry is welcome to take items from this share table. 
The initiative, launched in 2016 by Food Rescue, aims to help reduce the 1 billion food items wasted annually in U.S schools. Currently, 350 schools around the country host share tables. For any unclaimed food, Food Rescue works to collect and donate these otherwise "tray to trash" items to local food banks. 
(COOK: These Waste-Free Recipes For Eco-Friendly Eaters) 
Some schools, however, are wary of the program, fearing food safety violations. Recently, some schools in Connecticut have added new restrictions on share-table approved foods and are facing criticism. One eighth-grader, Nick Iannone, who helped launch a share table at his middle school in Wallingford, Connecticut told NPR Boston, "I'm a little bummed out because they're wanting us to eliminate half the stuff that's on our food share tables." 
(READ: What These Japanese Schools Are Doing For Lunch) 
Food Rescue president, John Williamson, stands by the program: "The USDA has thought very carefully about this issue and [has] implemented food safety guidelines so that it [is] safe and so we don't feed landfills instead of children." 
According to Williamson, after a 2011 revise to the Good Samaritan Food Donation Act of 1996, schools are now also protected along with non-profit organizations against liabilities involving food donations. Program advocates have argued that share tables' economic, environmental, and public healthy benefits still remain strong. Some say, if anything, share tables have turned lunchrooms into a chance for teaching empathy.