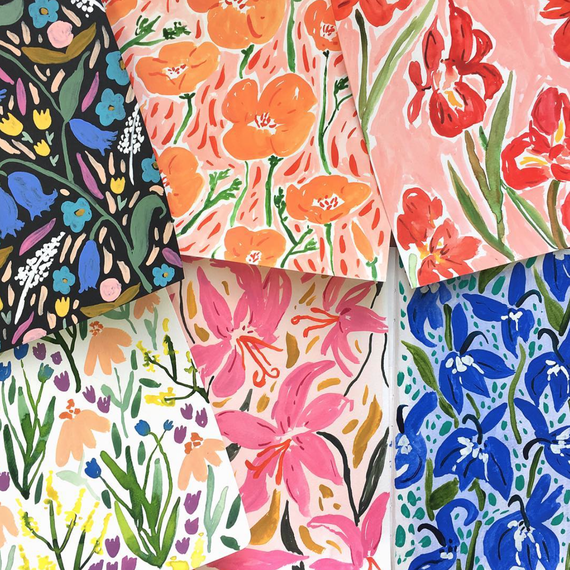 Spring comes with a series of new beginnings from the blossoming flowers and trees to our own indoors. ("Hello, spring cleaning!") Whether you're seeking a bit of seasonal change in your home, lifestyle, or creativity, why not take on a fun new challenge?
One illustrator, Juliet Meeks, a surface designer located in New Orleans is doing her own artistic social media challenge. What is it? Hint, it's "blooming" with originality.  
Meeks is near completing her #30PaintedFlorals in 30 days Instagram project. Basically, the idea is what it sounds as Juliet has already painted 20 plus various florals. Once a painting is finished, she posts the completed painting on Instagram with an update in her challenge process. Thus far, she has painted a colorful flower field, a blue calico floral print, California orange-pink poppies, and many other blooms.
[FIND INSPIRATION: 5 of Our Favorite Paper Flower Artists on Instagram]
Her website dives a little deeper into her creative process saying, "Juliet's process involves a mix of watercolor and gouache, and the occasional cut of paper or experimental technique. She usually thinks of color first, and lets each new element guide it organically." It continues to mention that florals (naturally) are part of her signature painting style.
If you find yourself inspired by Meeks' #30PaintedFlorals or her past challenge #30DaysofPaperCuts you can create one of your very one too. Making the promise to one's self to post your results daily to social media might help maintain your commitment level as well as enthusiasm.
So, what can you challenge yourself to do the month of April? Might we humbly suggest Easter eggs?
Surely, you won't be at a loss for decorating techniques as egg inspiration is virtually everywhere this time of the year. If you do go for it, you must try gingham-decoupaged Easter eggs and these Liberty of London inspired floral stamped eggs. Just think about all of the pretty eggs and beautiful Instagram gallery you'll gather during the course of your springtime creative challenge. When you're done, you'll be on the hunt for a summer project.
Get inspired with a look through Meeks sketchbook for her #30paintedflorals: