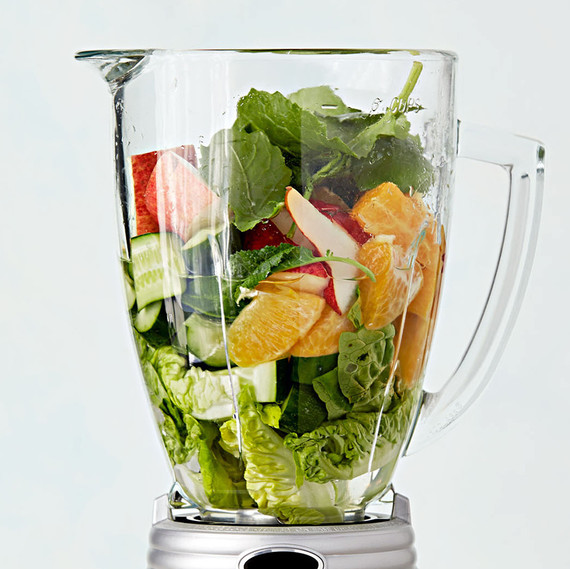 With all due respect to juicing (and its many devotees), when it comes to drinking our fruits and vegetables, we do love a blender. This kitchen appliance not only ensures that ingredients retain their nutrients, it also preserves fiber, which can help lower cholesterol and glucose levels and aid digestion. To build a better, more colorful beverage, try these quick tips.
1. Put down the peeler.
Most of the health benefits of cucumbers (and pears, and apples) are found in the skins, says New York City-based nutritionist Bonnie Taub-Dix. Less work AND more fiber and minerals? Yes, please! Just make sure to rinse your fruits and vegetables well before using and buy organic when possible.
2. Throw in whole peeled citrus.
Many disease-fighting flavonoids are stored in its papery membranes.
3. Use cold filtered water.
Unlike coconut water or juice, it keeps you hydrated without adding sugar.
4. Try romaine.
It's high in water content and adds vitamins and nutrients without overwhelming the flavor.
5. Prep at night.
Assemble ingredients in the pitcher and refrigerate the night before. In the morning, press "on" for an instant breakfast.
Bonus: Our Easy Cleanup Trick
How to clean those pesky blender blades? Add a squeeze of dish soap to the canister and fill about halfway with water. Return the blender to its base and turn it on. This helps clean those hard-to-reach spaces between the blades where food tends to get stuck.
Get the Easy Blender Green Juice Recipe