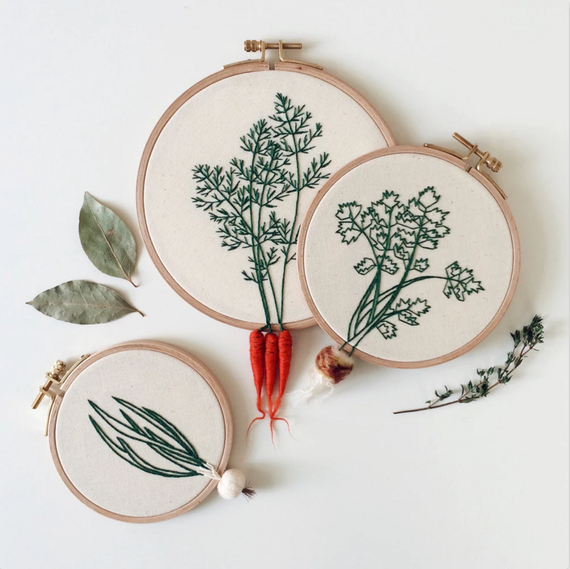 Anyone who has a passion for embroidery will tell you one thing — anything can be inspiration. We've seen brightly-colored portraits, impressionist paintings recreated from thread, even French knots that mimic the texture of moss! And to that point, we were pleasantly surprised when we discovered artist Veselka Bulkan — an artist who thinks outside of the hoop (literally) when it comes to her embroidery.
Bulkan creates vegetable-inspired art in the form of carrots, turnips, onions, you name it. And while she does do needlework on canvas bags and hoops, she also lets her art dangle off the canvas, crafting a unique three-dimensional aspect to her work.
[STITCH IT YOURSELF: The Whimsical Embroidery Kits by American Made Winner Heather Lins]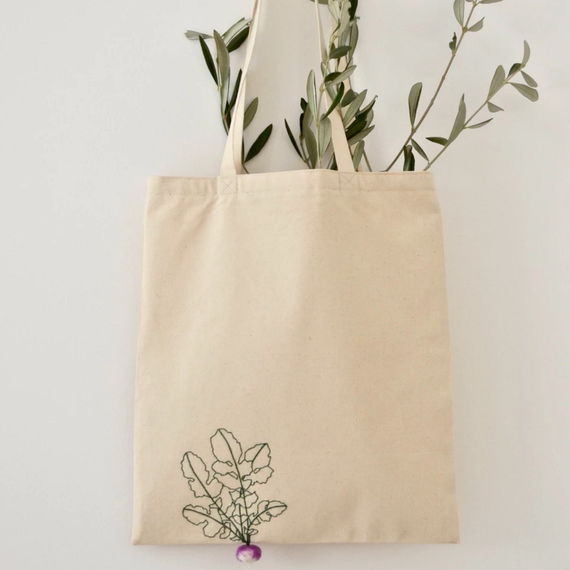 Thankfully, we had the chance ask Bulkan about her technique. She told Martha Stewart Living that her craft work is a combination of needle felting and traditional stitching. She uses needle felting to create different vegetables, stitching to embroider hoops or canvas bags, and then attaches the vegetables onto the edge of the hoop or bag as a seamless continuation of the stitching. 
"However I do not limit myself with any common techniques.," she tells Martha Stewart Living. "If I need a new look for any of my new designs, I try to find out or combine new ways to achieve the result as well." (Sounds very "Martha," wouldn't you agree?)
[LEARN THE TECHNIQUE: Embroidery]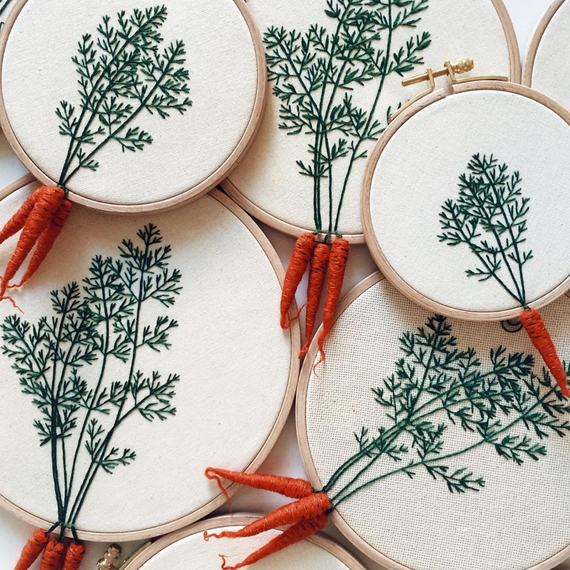 Bulkan's first spark of inspiration for her embroidered take on vegetables, came from her interest in cooking — especially recipes with vegetables, her cottage outside of the city where she loves to garden, and from her mother who also likes gardening. "I am inspired mainly from my own life, interests, experiences, and also nature itself," she tells us. "Trying some recipes with the vegetables inspiring me is also irresistible. Even on busy days, I always take inspirational short breaks." One of her first projects was given to her mother for Mother's Day — what a thoughtful gift.
[DON'T MISS: We're Feeling All Aflutter Because of These Delicately Beaded Birds]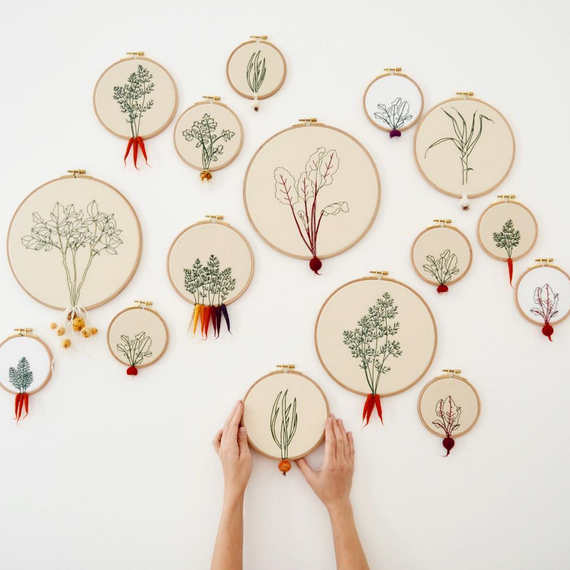 So whether you fancy carrots, radishes, onions, olives, celery, kohlrabi, parsnips, potatoes, rosemary, garlic, or pumpkins — Bulkan has the perfect piece for you in her store Little Herb Bouquet. Also, be sure to take a look at her Instagram to find out what happens behind the scenes. (She once made a giant parsnip-inspired pillow that looks oh so snuggly!)
Feeling inspired to try embroidery? Turn a plain straw bag into a customized clutch: