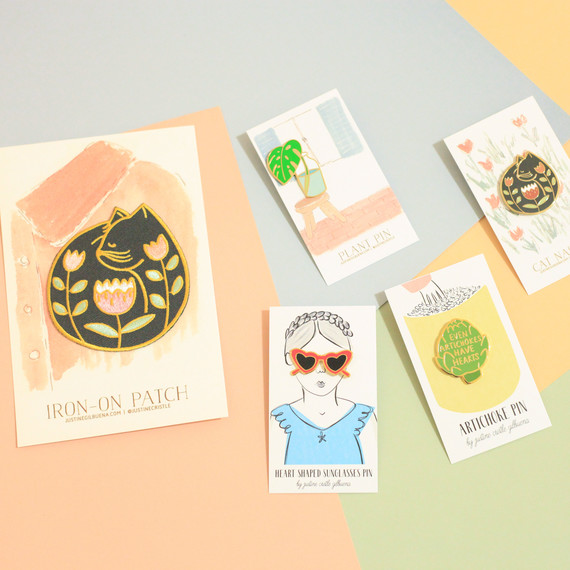 Take a look at the denim jackets, tote bags, and sneakers you see everywhere, and you'll notice it right away — pins are experiencing a comeback in a big way. And while pin collections are like a dime a dozen on Instagram, there's one that has caught our eye. The tiny tokens of Justine Cristle Gilbuena, who illustrates her own custom pins and patches, includes a vintage Singer sewing machine, a watering can bursting with blooms, and there's even a little cat curled up for a nap! (Imagine our surprise when we came across this Martha Stewart one amidst her treasures!) Bursting with unique backstories for each and every design, we had to find out about her artistic background, her creative process, and some of her favorites from the collection.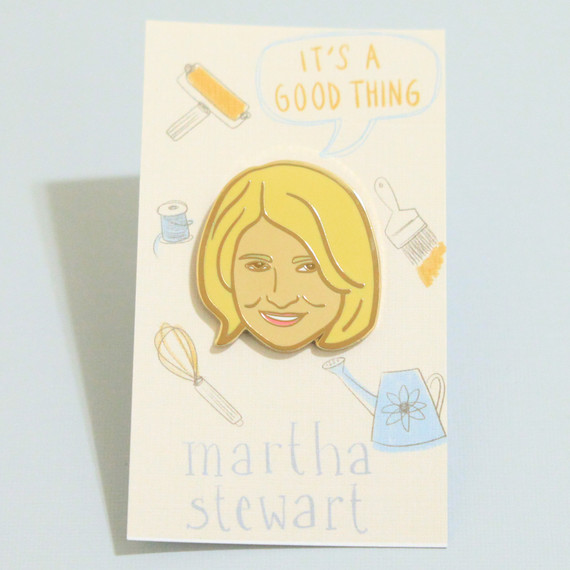 1. Tell us a little about yourself. How did you become an illustrator and designer?
I was born and raised in Queens, New York, in a Filipino household. That upbringing still inspires many of the things I design today. As a child, I could always be found drawing. Then, in college, I studied creative writing, but took several studio art classes, like photography and printmaking — whether through stories or with my hands, I knew my future would be creative. Printmaking was one of the last classes I took before graduating and my favorite. I loved being in the studio for long hours and carving designs on metal plates. After college, I enrolled in a lot of workshops, like sewing, bookbinding, and natural dyeing because I missed that creative environment. After a few years, I decided to open my Etsy shop because I wanted to share my tiny pieces of art with people.
[CHECK THESE OUT: 12 Enamel Pins That Any Martha Stewart Fan Would Wear Proudly]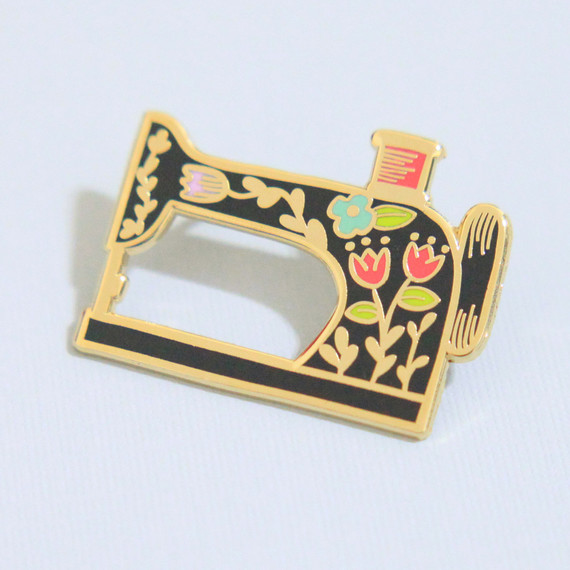 2. Why pins? And why do you think they are so popular again?
I still remember the feeling the first time I held that pin — it was so much fun seeing my drawing come to life, like my nerdy childhood dreams coming true! After that, I was excited about all the pin possibilities!
I think that pins are so popular again because tthey are nostalgic and retro. There are also so many amazing designers and everyone has their own unique style and reason for producing them, whether that's to make people happy, remind people of their childhood, or share a value they are passionate about on the lapels of customers' jackets. 
[WOW: You Have to See This Quirky Collection of Salt and Pepper Shakers]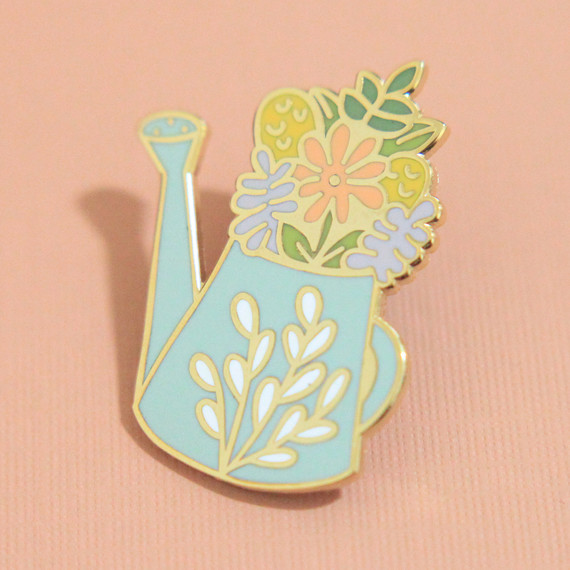 3. What inspires your work? And how do you stay inspired from one project to the next?
My Filipino roots, childhood memories, and simple things like flowers and plants inspire my work. The sewing machine pins were inspired by my mom, growing up around her vintage Singers, and of course memories from our apartment, and fabric hunting in tiny shops in Corona and Elmhurst in Queens.
Sometimes, I get too many ideas at once so I have to make a list on my phone so I don't forget. I still go back to that list, rework ideas, and just draw. Most of the time, the designs don't work out, but it's okay because I know that eventually one of those ideas will lead me to the next thing.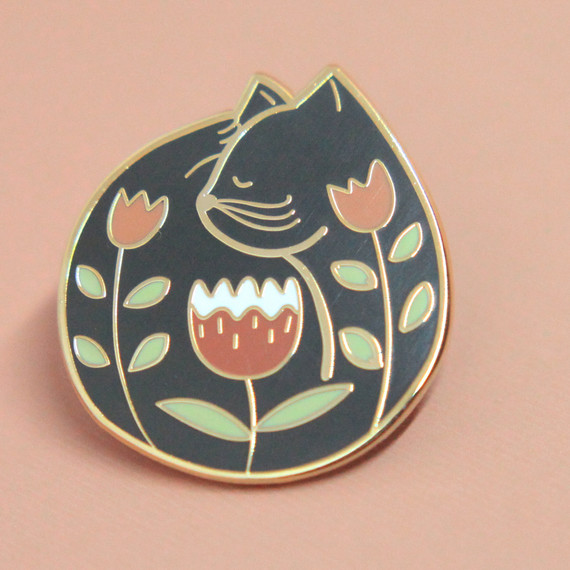 4. What is your creative process when illustrating a new pin?
I always start by sketching in my notebook, usually drawing the idea as many times as I can. I like using ink instead of pencil because it keeps me from erasing. Once I'm happy with a design, I either start working digitally, or continue working on paper using watercolors to figure out the color palette. Selecting the color combinations is probably my favorite thing about the process. 
[TRY A DIY: Tasseled Fringe Safety Pin]
5. Aside from the Martha pin, what's your favorite?
My favorite pin, which is new and isn't in the shop yet, is the Jeepney pin. The pin is inspired by the unique and colorful jeepney buses that are a huge part of the local life in the Philippines — it's an inexpensive way to travel. Like the sampaguita pin, it brings back memories for my mom and sister, who grew up in the Philippines. I think it's great how little things, like pins, can bring up so many emotions. 
Feeling inspired? Why not create a personalized bottle-cap magnet or thumbtack: