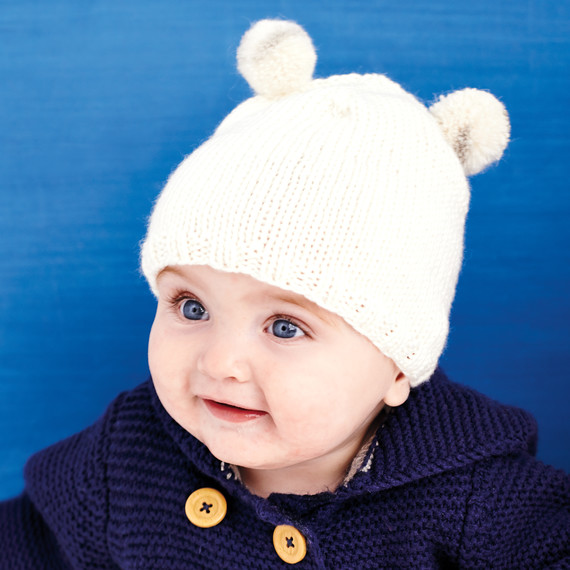 It's amazing what you can accomplish with a pair of knitting needles and a compassionate heart: people have made giant colorful elephant blankets, socks for babies, and even sweaters for shivering chickens. And that's why we were inspired by this particular knitter who has made over 2,000 (and counting) caps for newborns. (That's a lot of pink and blue yarn.)
Meet 90-year-old Babara Lowe who is a fairy godmother (of sorts) to thousands of babies born in the Cleveland, Ohio area. She dresses them in either a pop of blue or a pop of pink knitted cap to wear shortly after they're born. Barbara spoke about her knitting project to the Cleveland Plain Dealer, saying, "To this day, I've made 2,072 hats! I love doing this." Lowe has been at her knitting efforts for the past ten years donating all her baby caps to the Hillcrest Hospital. Lowe has been a knitter all her life as she learned the hobby back in high school and continues to knit to this day. Often, Lowe makes special blankets and clothes (including baby caps) for members of her family that started with her children and now for her grandchildren. Lowe confesses that she's a pretty quick knitter as she can finish a project within four hours. "I've been doing this for so long that if I make a mistake, I can fix it pretty quick," she says.
[TRY IT: How to Knit the Most Adorable Baby Hat With I-Cord Ties]
While any knitted cap looks cute on a baby, Lowe's caps have a signature style — a turned-up brim with a small yarn flower in the front. Lowe started her newborn knitting efforts back in 2008 after her husband's (Milton) passing in 2001. The same hospital she knits baby hats for is the hospital that cared for him. Lowe wanted to do something to give back to the hospital and the staff as she mentions, "They were always so good to me."
Lowe's efforts to dress newborns in a comfy cap is not only an accessory, but the hats are beneficial to baby's health and warmth within the first days of being born. Director of Women's health and Services and a registered nurse, Marty Bartos comments on the cap's abilities, "It's a nice gift for the parents. But we also use it as a teaching moment, which is important for us to do. We want to educate parents about how important it is to keep their baby warm." Keeping babies warm is essential as they can lose heat through their heads and the caps are placed on their heads immediately after they're are born.
To this day, Lowe is still knitting hats for newborns as when she first started those babies are now eight and nine years old. Knitting keep's Lowe's mind as sharp as one of her many needles. She comments about her favorite part of her good volunteer work, saying, "I feel like they (the babies') parents gave them their first gift, which is life," she continues to say, "I feel like I'm giving them their second gift with these little hats."
Watch this interview with Lowe, explaining her volunteer work: