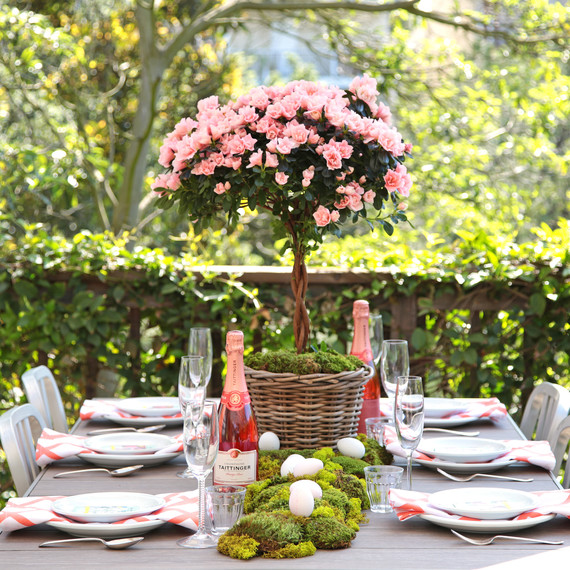 Decorating for Easter can go one of two ways: the right kind of kitschy and festive or the sad and wrong kind of pastel explosion. In an effort to avoid the latter, I thought of a garden theme which instantly "classes" anything up. Whether your "garden" is a Trader Joe's basil plant or a magazine estate, this table setting would fit well in both.
Every year, I try a different color story. Sometimes, it's pale yellow and navy for a masculine touch or I go all out Ladurée and have a pastel fantasy. This year, the color for this table was inspired by the most delicious Taittinger Brut Prestige Rosé I tasted recently — it was heaven and the color was perfect. Once you choose a color, its hard to get it out of your mind, so when I was perusing the beautiful things at Rolling Greens here in Los Angeles I stopped dead in my tracks at this Azalea topiary. It was the perfect thing to take center stage for the table.
[FIND INSPIRATION: 35+ Beautiful Easter and Spring Centerpieces]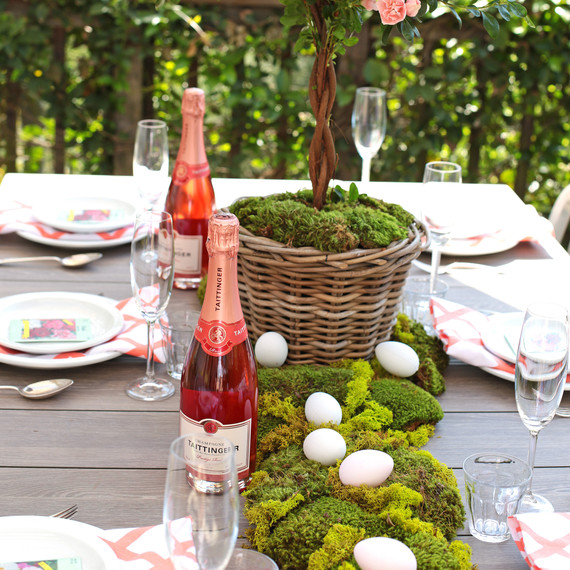 I knew I wanted to put "mood moss" around the base of the topiary, and I thought: why not continue that into a runner? I had actually tried a pre-made moss runner, but it looked like astro turf so that was returned immediately. Instead, I got more bags of the moss and spread it out in a long line. Next, I filled the cracks between the pieces with this bright green feathery moss to complete the look.
The table runner became the perfect home for Easter eggs, as this is an adult party, we don't hide them. After a few glasses of beautiful rosé, the only thing you want to hunt for is a refill.
[TRY IT: Make Your Own Natural Moss Centerpiece]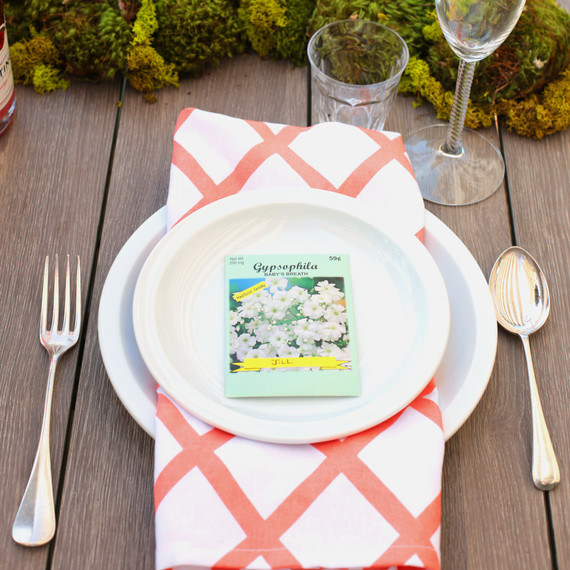 For the napkins, I opted for tea towels that matched that rose bottle color more of a salmon pink than a macaroon pink. A simple party favor is a great touch to send your guests home with, when it doubles as a placard I think we have a winner. I picked up several seed packets and used some sticky card stock to replace the label with the name of the guest, this is so simple it can be done with a Sharpie and a pair of scissors.
To keep the garden party theme going, I also ask my guests to wear a festive hat or "Easter bonnet." I have been doing this for years and the couple that showed up with two full Easter baskets as hats are definitely the most memorable.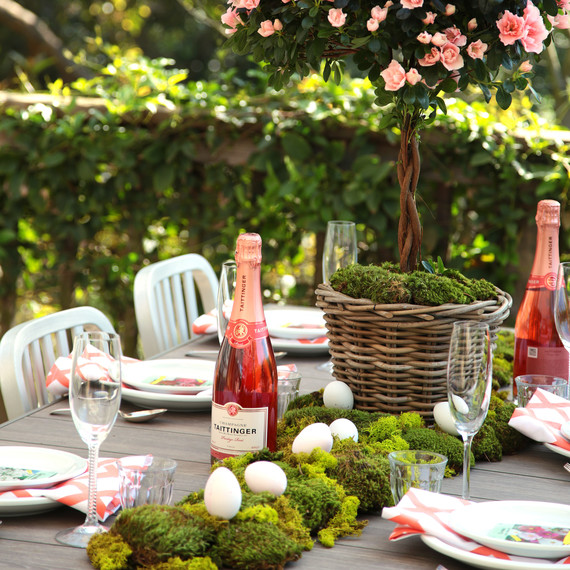 When you do a more elaborate table setting make sure the food is either plated or buffet style, so you don't need to fuss with moving things around. This would be great with a casual buffet of quiche, a beautiful spring salad, and some small sweets. Have you ever taken some inspiration from something you love and turned it into a table setting?
Looking for more ideas? Watch how to fold a dinner napkin into a cute pair of bunny ears.