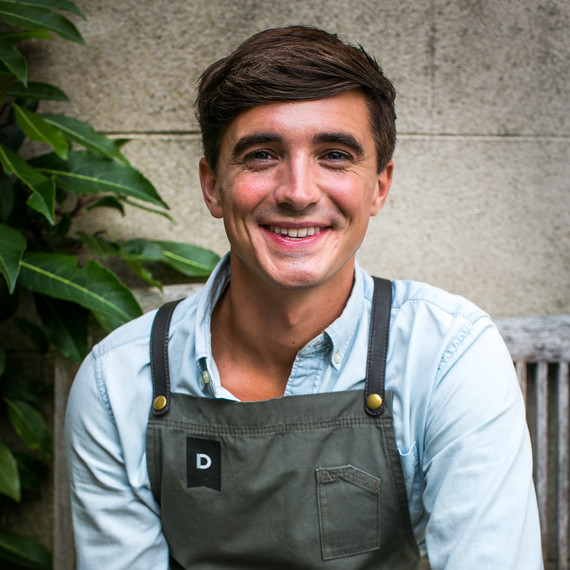 Donal Skehan has already had quite the career at the ripe old age of 30. He's the author of nearly half a dozen cookbooks, a food columnist for the Irish Times, the host of Food Network's "Star Kids," in addition to multiple cooking programs in Europe, and our favorite piece of trivia about him, a former teen pop star in his native Ireland (what other food writer can claim that as a resume footnote?). He's also a YouTube sensation with a similar sensibility to our Everyday Food host Sarah Carey, teaching people all over the interwebs how to cook with videos of his fuss-free, weeknight-friendly recipes.
His first U.S. cookbook, "Fresh: Simple, Delicious Recipes to Make You Feel Energized!" which was released this month, embodies that same approach but with a healthy bent and was catalyzed by his own struggle to eat well. Skehan says, "It's all about balance. I still make burgers and eat the food I love, but my general overarching habits have changed. I can justify eating a cruller or cooking with lard as long as it's not every day." We caught up with him recently to get his top tips and strategies for eating healthy.
1. Stock your pantry.
"Spend $40 on staples like your oils, vinegars, salts, rice, and pasta because these are the building blocks to a good meal."
2. Set goals.
"Change doesn't happen unless you have a plan. Ask yourself what your aspirations are -- do you want to cook daily? Do you want to eat out once a week, once a month?"
3. Get organized.
"Eating well isn't intimidating if you think through and break down the process. I create a weekly meal plan and do all my shopping on Sunday. The clever cook knows that it's the extras like boiling rice and quinoa ahead of time that save you during the week. If it's 5 p.m. and you're hungry and looking at your cupboards for something to eat, there's disaster afoot, as dramatic as that sounds!"
4. Be open to trying new ingredients.
"In Ireland, anything beyond your meat and two veg is adventurous, so when all the healthy ingredient trends blew up, I was rolling my eyes a little bit. But once I actually tried stuff like coconut oil and chia seeds, I loved the flavor and texture. At the end of the day, it has to taste good, and if it doesn't, there's no point in adding those things. My aim with "Fresh" was to introduce healthy ingredients in a way that would make the reader excited to eat them instead of feeling like it's a chore."
5. Cook on a regular basis, even if you have to cheat a little.
"Once you have your pantry staples and an action plan, it just comes down to actually cooking, which is all about confidence. Once you build it, you can happily say, this dish doesn't taste right so I'll add, for example, a little cayenne to give it spice -- that's when you go from someone who just follows a recipe to someone who's a confident cook. But it takes time to get there. And if you can't always cook everything from scratch on that journey, use what I call good-quality cheat's ingredients. This is my go-to meal in a pinch: I'll pick up some store-bought tabbouleh, which I'll pep up with fresh lemon juice at home, and hummus. I'll buy some herbs and garlic, spread them on a chicken breast, and pan-fry it. It's cheat's cooking, but I'm still cooking!"
Watch Donal and Sarah make a one-bowl chocolate cake and lemon drizzle slices -- we told you he's all about balance!