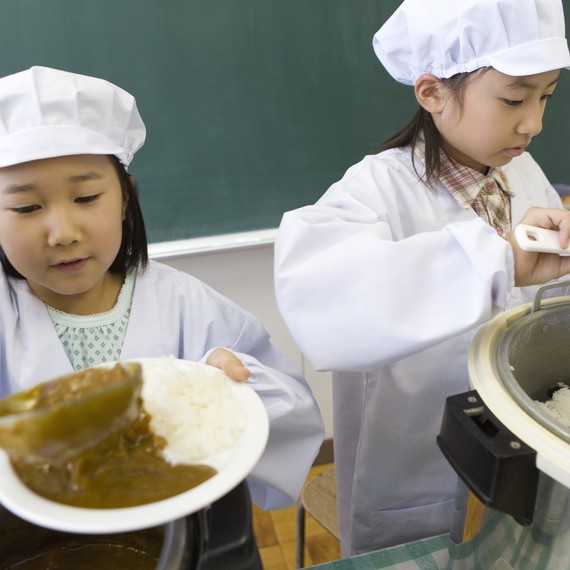 American school lunches have been getting flack for a while and with health initiatives, like Michelle Obama's 2010 Healthy, Hunger-Free Kids Act at risk due to funding cuts, we're wondering, who's doing lunch right? 
Perhaps, Japan has an answer. There many schools treat lunchtime as more than just a recreational midday break. Since the country's government enacted the Basic Law of Shokuiku -- a Japanese term for "food education"-- in 2005, public schools have been encouraged to teach the importance of healthy eating and good food routines. And this doesn't stop at choosing vegetables over fried foods.
(GET: This Shopping List Makes a Week's Worth of Healthy Lunches!)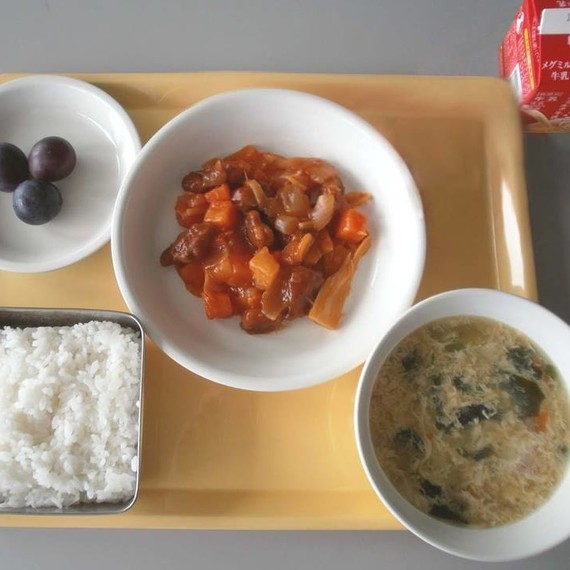 At a school in Saitama, Japan, it starts with students helping to harvest vegetables in the community garden. The kitchen staff then uses this produce to make lunch; fresh fish with pear sauce, mashed potatoes, and soup, all from scratch.
(COOK: Our Favorite Pear Sauce Recipe) 
When the lunch bell rings, each student is responsible for preparing the classroom for eating, starting with desk-sanitizing and running a quick health check (Are you sick? Have you washed your hands?) Afterwards, with a teacher's help, students bring the food to their classrooms, help serve one another, thank helpers for the meal, and eat together. Finally, students clean up their spaces and recycle milk boxes before resuming lessons. Many of the students also bring their own lunch cloths, chopsticks and cups to school to reuse each day, significantly reducing waste.  
In Japan, more than 10 million elementary and secondary school students in 94% of the schools are fed through similar hot meal programs. 
With shokuiku's mission to educate students on good food practices, from cultural etiquette and food origins to consumer effects on the environment, many Japanese educators now see lunchtime as the perfect chance for children to translate this knowledge into delicious practice.