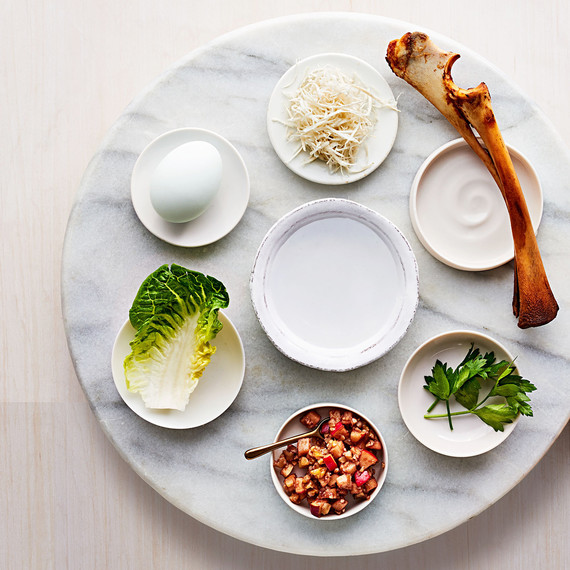 The great thing about lazy Susans is that they turn any meal into dinner and a show. If you don't own one, don't worry. You can make your own with the help of a spinning base. Just rest a round marble serving board (or even a serving platter) on top, deck it out with appetizers, and put it on a coffee table or sideboard. For a Passover seder, set it with the following ceremonial foods, and guests can give it a whirl to reach every one with ease. Bonus tip: The small dishes on your seder tray don't have to match.
1. Beitzah
An egg traditionally symbolizes mourning and renewal. It is hard-boiled, some say to represent the strength of the Jews through many hardships. Often it is also roasted.
2. Maror
A "bitter herb" exemplifies the bitterness of slavery; usually it is represented by horseradish.
3. Z'roa
A lamb shank commemorates both ancient sacrifice and the mark made with lamb's blood on the Jewish slaves' doorposts. It is not eaten.
4. Karpas
A vegetable (usually celery, parsley, or boiled potato) is dipped in salt water, representing the tears of the slaves.
5. Charoset
A mixture of apples, nuts, and wine, it suggests the texture of the mortar used in the pyramids and the sweetness of the Jews' freedom.
6. Chazeret
Another bitter herb, here romaine lettuce, is also used for the ritual step called korech ("to bind together"), during which the seder leader distributes pieces of matzo, and each person dips the maror into the charoset and places it between two pieces of matzo. This is known as a Hillel sandwich, after the rabbi who originated the practice.