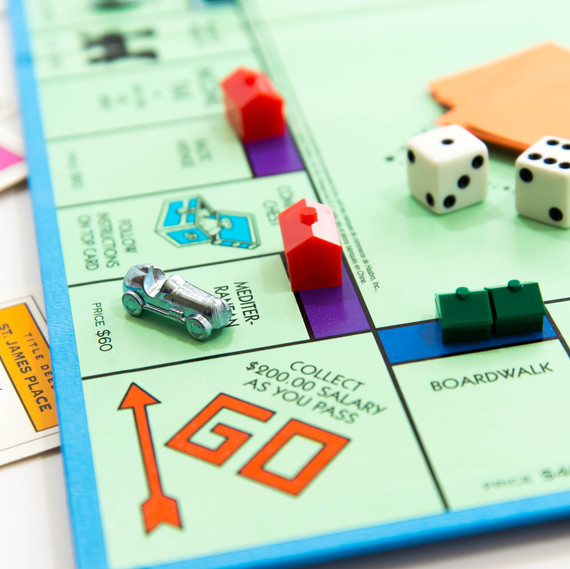 Had it not been for a lawsuit against the Parker brothers in 1973, the real inventor of Monopoly may have never been revealed. Originally, it was told that the creator of the game was Charles Darrow, a man who made millions off selling the game to the Parker Brothers in 1935. The true inventor behind Monopoly was Elizabeth "Lizzie" Magie, a woman who barely passed go after making a mere $500 upon selling her patent to the Parker Brothers over 80 years ago.
Born and raised in Macomb, Illinois, Magie was a game designer, stenographer, short story and poetry writer, comedian, actress, engineer and newspaper reporter. To say she had done it all was an understatement. In 1904, Maggie did what might have been most remarkable thing in her accomplished life by joining the less than 1 percent of all patent applicants who were women, when she patented The Landlord's Game — a game she had created with the intention of teaching others about Henry George's single tax theory in a fun and simpler way. It was a game that would end up being the basis for the game we all know and love today, Monopoly. 
[DIY: Portable Game Board for the Beach]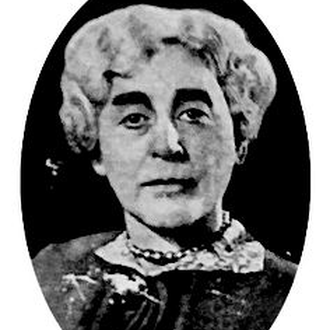 Creating The Landlord's Game wasn't the only thing that Magie was known for — as an outspoken feminist, who was finding it hard to support herself, advertised her work ethic (literally) for having "rare and versatile dramatic ability; a born entertainer; strong bohemian characteristics, can appreciate a good story at the same time she is deeply and truly religious — not pious." The ad received attention nationwide and before long everyone in the country knew that Elizabeth Magie was an outspoken feminist and the attention also helped land her a job as a reporter.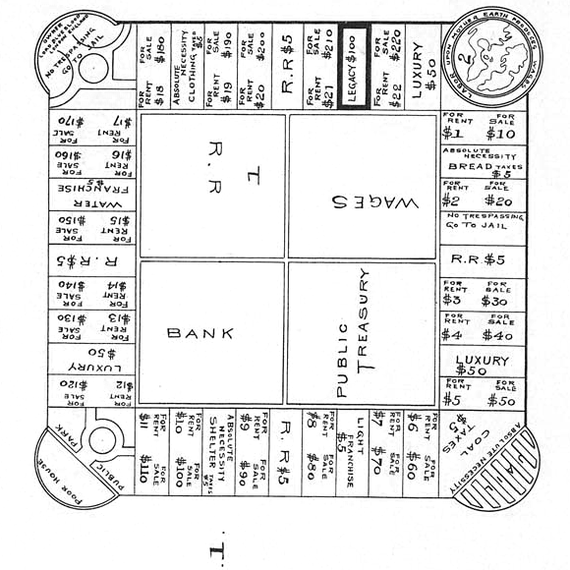 Magie didn't seek fame or fortune for her game, although we're sure it would have been nice — when she sold the patent to the Parker Brothers, all she hoped was that the game would do what she had set out to do all along and teach others about the single tax theory, so that her work would not have been in vain — sadly that was not the case. Magie was forgotten, Darrow and the Parker Brothers overshadowing her as the masterminds behind Monopoly and the Landlord's Game forgotten. 
Thankfully, that fateful court case in 1973 where Ralph Anspach was being sued by the Parker Brothers for creating Anti-Monopoly and uncovered the truth behind who was really behind the invention of Monopoly and made sure that Magie's name was known — and her story has been spreading ever since. Because of Anspach, even more stories have come out discrediting Darrow, like the fact that a woman named Ruth Harvey created the basis for the Monopoly board we know today, naming the properties after places she had lived or where she knew wealthy people lived. Harvey came up with most of the properties that are still on the board today including, Pensylvania Ave., Atlantic Ave., Mediterranean, Baltic and Park Place. It would seem that Darrow took the ideas of these women and credited them as his own. So much for a game that he "made from scratch for the sole purpose of amusing himself," as he always claimed. 
[CHECK THIS OUT:Word Game and Checkers Cookies]
Today, billions of people have played Monopoly worldwide and it is known for being a fun game for the whole family to enjoy— but what you may not have known, but certainly do now, is that the game exists because of a talented woman named Elizabeth Magie, a feminist, a Georgist and someone who was passionate about inventing games.
Feeling inspired? Learn how to make your very own game board table: