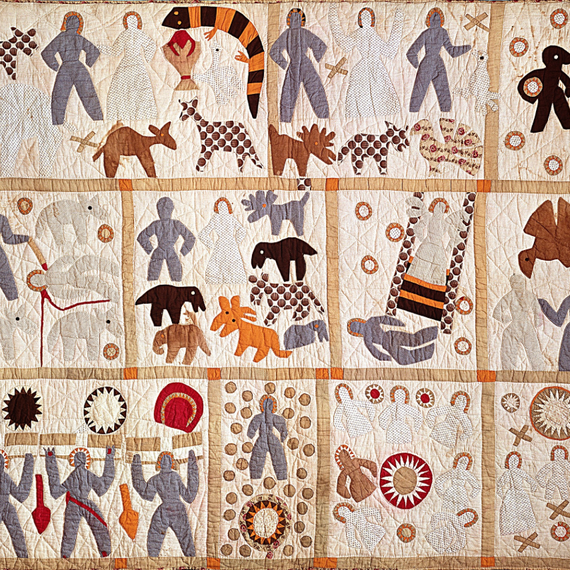 There's something about a quilt that tells a story, one filled with memories. Whether you've received one as a gift or been the one to craft such a special and cozy item, chances are you're familiar with their storytelling abilities.
Perhaps the most notable stories ever told via quilt were those of Harriet Powers. A talented quilt-maker, Harriet was born a slave in Athens, Georgia on October 29, 1837. Though little is known about her childhood, we do know that Harriet married her husband, Armstead Powers, at 18 in 1855.
[EXPLORE HISTORY: Meet the Women Who Revolutionized the World of Arts and Crafts]
We also know that Harriet most likely learned her signature appliqué technique from her mother and, thanks to a letter uncovered in 2009 by historian Kyra E. Hicks, that, despite earlier claims to the contrary, she was literate and studied the Bible. Her studies inevitably inspired her first work, "Bible Quilt," which was created following the Civil War and brought the Bible's key stories like Adam Eve in the Garden of Eden and the Last Supper to life. In 1886 Harriet began to put her work, which was hand- and machine-stitched, on display — and that's when she really started to gain notoriety. While participating in an Athens cotton fair, Harriet met art teacher and fellow artist Jennie Smith, who recognized her talent and offered to purchase "Bible Quilt" to no avail. They remained in contact, and five years later, during a bout of financial trouble, Harriet agreed to the sale for $5. Jennie described Harriet's style, which historians have found similar to art found in West Africa, like this: "[It] is bold and rather on the impressionists order while there is a naivete of expression that is delicious." Thankfully, she documented the details of Bible Quilt, writing down the meaning behind each unique panel according to Harriet herself. It is now on display at the Smithsonian Institute.
Harriet crafted her second most famous work, "Pictorial Quilt," more than 10 years later in 1898. It's unclear how the piece ended up in the hands of the wives of Atlanta University (now Clark Atlanta University)'s faculty — whether they commissioned it or, like Jennie, purchased it at a cotton fair — however the Pictorial Quilt was a gift to chairman of the board of trustees, Reverend Charles Cuthbert Hall, from them. It remained in his family until folk art collector Maxim Karolik donated it to Boston's Museum of Fine Arts. Though only two of Harriet's beautiful works are definitely known to exist today, the same letter that dispelled any illiteracy rumors, also revealed that "the mother of African American quilting" actually created four quilts, including another biblical one called "Lord's Supper."
Regardless of whether or not we'll ever catch a glimpse of the others (hey, you never know!), Harriet certainly made a name for herself until her death on Jan. 1, 1910, and the mom of at least nine children continues to be honored for her contributions to the history of African American folk art postmortem. She was inducted into the Georgia Women of Achievement Hall of Fame in 2009 and October 30, 2010 was officially declared Harriet Powers Day in her hometown of Athens, Georgia.
Feeling inspired? Courtesy of Martha Stewart, get a sneak peek at a fascinating quilt exhibition at the Park Avenue Armory: