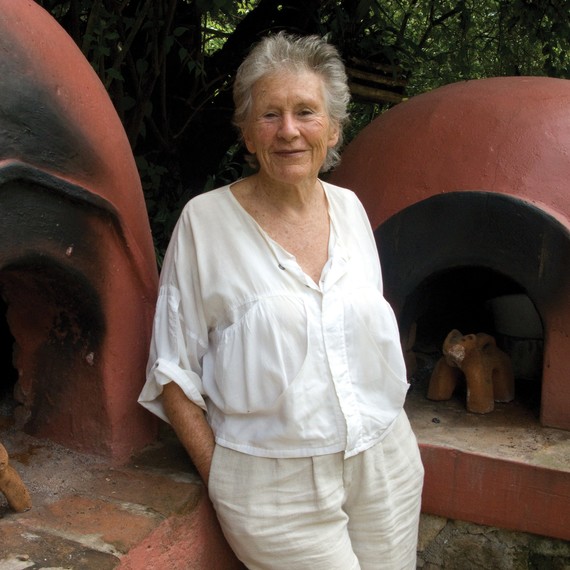 The British-born culinary legend has been referred to as many things over the course of her career -- the Julia Child of Mexican cuisine, a culinary anthropologist, an ethno-gastronomer -- but her favorite label to date? The Mick Jagger of Mexican food -- and trust us, Diana Kennedy has the swagger and talent to back it up. She has spent the past five decades traveling to some of the most remote parts of Mexico, learning about and documenting native ingredients and traditional preparation techniques.
(GET: Diana Kennedy's Tamales Recipe)
The pioneering food writer first found herself in her now-adopted country because her husband, Paul Kennedy, was the regional correspondent for the New York Times. She accompanied him on story assignments, using the opportunity to explore the markets of Mexico's towns and villages and talk to home cooks. It was these experiences that led her to teach cooking classes in New York after Paul's death and eventually to write her first book, "The Cuisines of Mexico." Published in 1972, it was an instant classic, changing Americans' understanding of Mexican food forever.
Her eight subsequent cookbooks were just as meticulously researched and have taught generations of cooks how to prepare traditional Mexican dishes. Kennedy has received countless accolades for her work, including multiple James Beard Awards and the Order of the British Empire. She's even considered an expert in Mexico -- her cookbooks have been translated into Spanish, and she's a recipient of the Order of the Aztec Eagle, the government's highest honor for foreigners (not even Mick Jagger has one of those!).
Kennedy is showing no signs of slowing down with age; in fact, she has become even more urgent in her mission to pass along her knowledge of the country's rich and diverse foodways before they disappear. She is currently transforming her home in Mexico into the Diana Kennedy Center, a nonprofit educational space that will house her troves of research, offer cooking classes, and promote sustainable practices, of which she was an early and vocal advocate.
What sets her apart is not only her passion for Mexican food, but also her dogged commitment to preserving the culture and history behind it. In the introduction to her 2010 tome "Oaxaca al Gusto: An Infinite Gastronomy," she writes, "Trying to record the ethnic foods as well as the more sophisticated recipes of the urban centers presented an enormous challenge and responsibility. I am sure that if I had known what it would entail to travel almost constantly through the year, and often uncomfortably, to research, record, photograph and then cook and eat over three hundred recipes, I might never have had the courage to start the project in the first place." Food lovers everywhere are so grateful that she did.
Watch Diana make tamales with Martha: