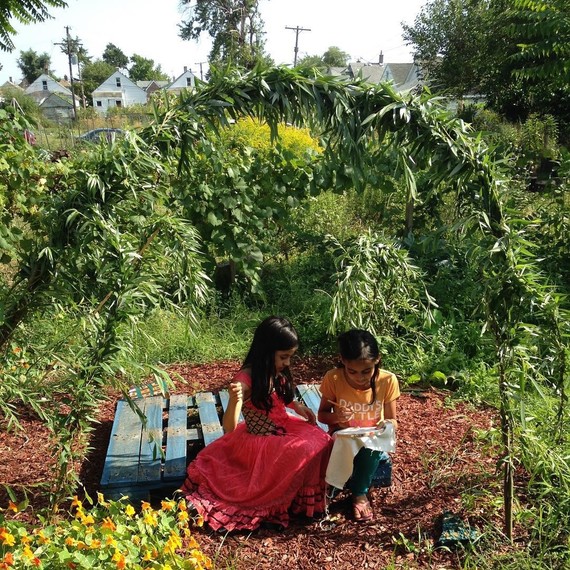 What if vegetables could also help empower women? As it turns out, at a community garden in Detroit, Michigan they are doing just that. 
Bandhu Gardens connects local Bangladeshi women with area restaurants in search of local produce. Currently, women from six families are growing vegetables including squash, taro roots, and amaranth greens in the garden, and selling their surplus harvests to nearby restaurants. 
"It gives these ladies some more autonomy over how household decisions are made," says the garden's co-founder, Emily Staugaitis, who noticed that many women in her Hamtramck neighborhood gardened to support their families. Hamtramck is home to one of the nation's largest Bangladeshi communities, and while it was traditional for many of the women to garden, Staugaitis realized they were also seeking out work where language barriers would not be an obstacle. 
So Staugaitis quit her job as an art museum curator and launched the project with friend and Bangladeshi co-founder, Minara Begum. Together, they help women, like Minara, create new ventures while also benefiting local businesses with fresher vegetables. Both hope this project will not only become a positive community for new immigrant families, but also help highlight and unite women-run businesses.  
On top of providing women a space to grow (literally!), Bandhu Gardens hosts cooking classes and pop-up dinners featuring traditional Bengali cuisine. This year, the garden will also expand to a stall at Eastern Market, Detroit's largest farmers' market. 
(READ: This Detroit Market-Cafe Brings Healthier Eating to the Neighborhood)
In today's tense political climate, Staugaitis says, "We will use [the garden] as a platform for people to connect with people and cultures they may be unfamiliar with." After all, in Bangali, "bandhu" means "friend."