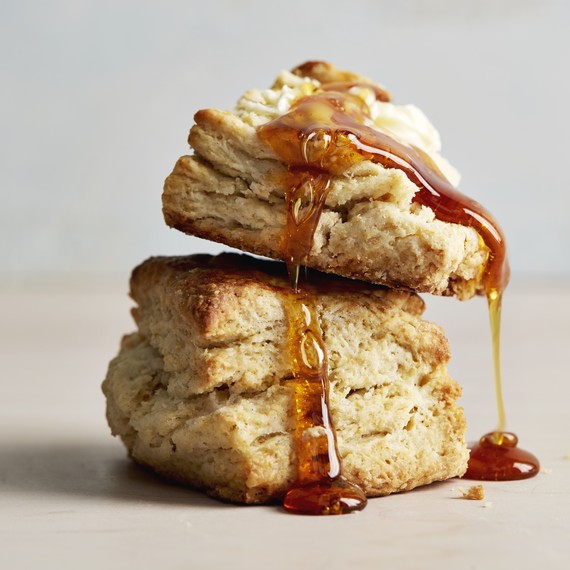 A just-baked biscuit is like a warm embrace to honey, butter and jam, scrambled eggs, or whatever else you put between those flaky layers. Try this simple recipe, and spread some comfort and joy. You need little more than clean hands and a few staple ingredients -- no pastry blender or biscuit cutter required, no scraps of dough to reroll and punch out. In fact, fingers are best for pressing cubes of butter into "flower petals" that create flaky layers of dough. Roll up your sleeves and take your biscuit game to new heights.
Grocery List
Unbleached all-purpose flour
Sugar
Baking powder
Baking soda
Unsalted butter
Buttermilk
Get the Test Kitchen's Favorite Buttermilk Biscuits Recipe
1. Whisk dry ingredients.
In a large bowl, whisk together 3 cups flour, 1 tablespoon sugar, 1 teaspoon kosher salt, 2 1/4 teaspoons baking powder, and 3/4 teaspoon baking soda for 30 seconds. Cut 1 stick plus 2 tablespoons cold butter into 1/2-inch cubes; toss into dry mixture to evenly coat, then press between your fingers to create flower-petal shapes and return to bowl.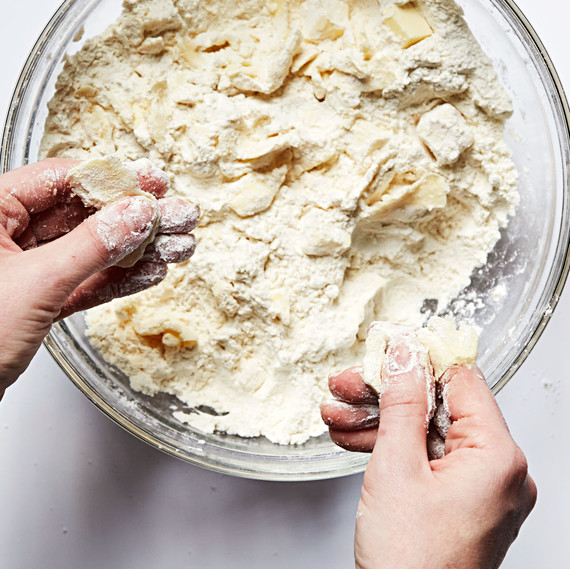 Push the Petals
The flat, wide pieces of cold butter are one of the secrets to creating layers of dough. (Not overworking the dough is also key; see step 2.)
2. Form dough.
Slowly drizzle 1 cup buttermilk over flour-butter mixture (to evenly distribute) while stirring with a fork. Stop stirring when dough begins to form but mixture is still crumbly. Transfer to center of a parchment-lined baking sheet. Gather dough with your hands, pressing firmly to bind, and flatten it into a 6-by-10-inch rectangle. Lift parchment along a short end of dough and fold in half, forming a 6-by-5-inch rectangle. Turn dough 90 degrees; gently reflatten to 6 by 10 inches. Fold in half again and flatten slightly into a 6-inch square.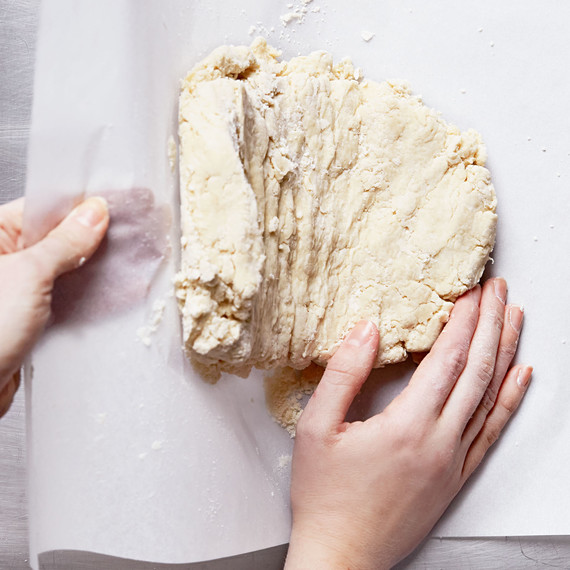 3. Slice and bake.
To keep things easy, form the dough on the same tray it's baked on. Cut it into thirds in both directions with a large, sharp knife, to form 9 biscuits. Brush tops with buttermilk. Bake at 450 degrees until puffed, golden brown on top, and hollow-sounding when tapped on bottom, 16 to 18 minutes. Transfer to a kitchen towel-lined basket; cover to keep warm. Serve with butter and jam or honey.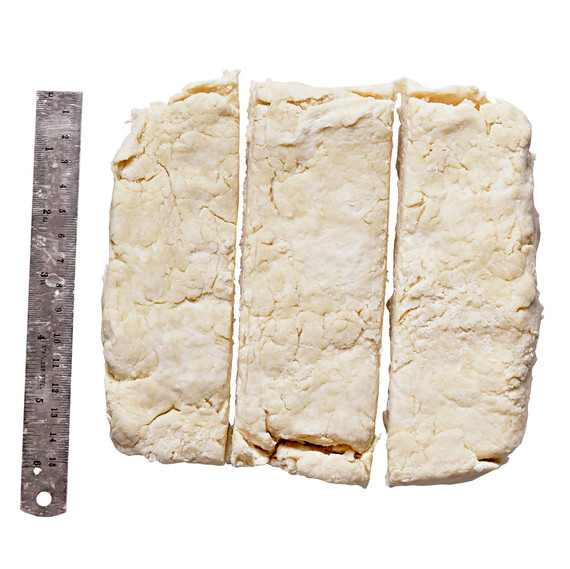 Room to Grow
After slicing the dough into individual biscuits, gently lift and separate them slightly, so they have space to expand as they bake. Biscuits can be formed, loosely covered, and stored in the fridge the night before. Brush the tops with buttermilk just before baking.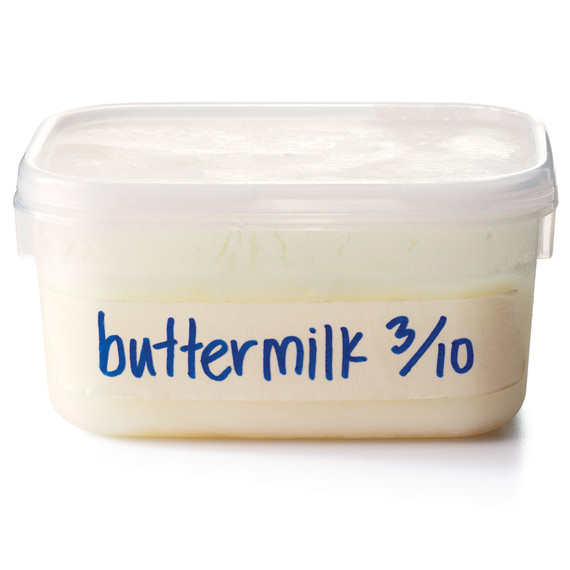 Buttermilk Basics
This tangy cream -- made from a combo of milk and lactic-acid bacteria -- ensures incredibly soft biscuits with lots of layers. If you don't have any on hand, use this hack: Stir 1 tablespoon lemon juice or white vinegar into 1 cup whole milk; let stand until curdled, about 5 minutes.
The Fresh Test
Before you start baking, check if your leavening agents are still good. Sprinkle 1/4 teaspoon baking soda over 2 teaspoons white vinegar, and 1 teaspoon baking powder over cup hot water. Both should fizz vigorously. If they don't, buy new containers.
3 Ways to Work a Biscuit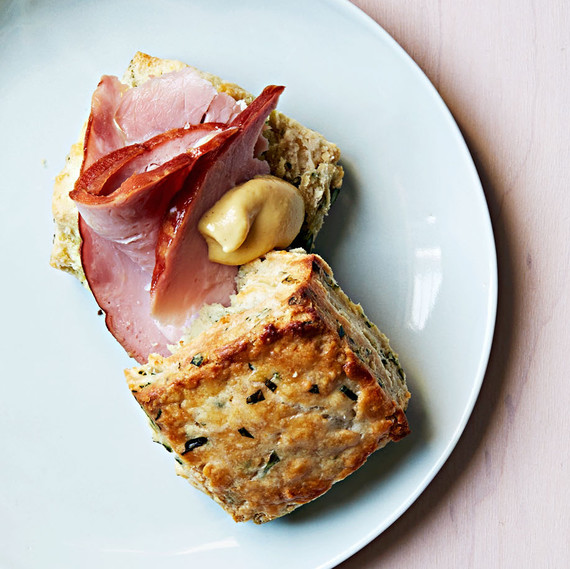 Mustard & Herb
For a savory kick, stir 1/3 cup chopped flat-leaf parsley leaves, 1 tablespoon chopped chives, and 2 teaspoons fresh thyme leaves into flour-butter mixture. Whisk 2 teaspoons Dijon mustard into buttermilk before adding to flour-butter mixture in step 2. Serve with more mustard and sliced ham.
Get the Mustard-Herb Buttermilk Biscuits Recipe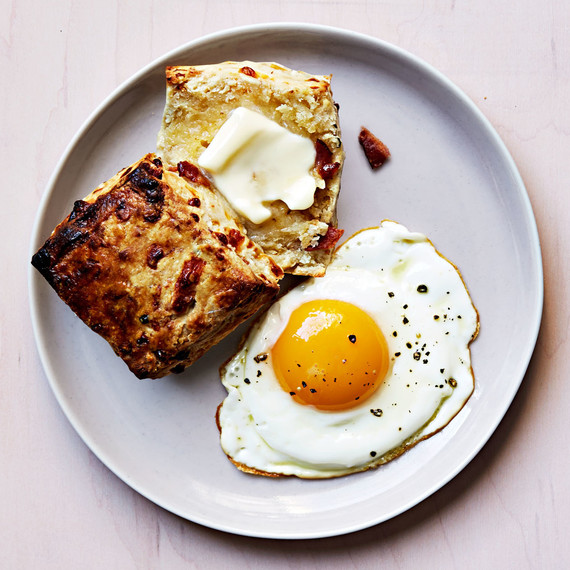 Bacon & Cheddar
To take breakfast over the top, reduce salt to 1/2 teaspoon and butter to 1 stick in step 1. Whisk 1/4 teaspoon freshly ground black pepper into dry ingredients. Stir 4 slices chopped cooked bacon and 1 cup (3 ounces) shredded sharp cheddar into flour-butter mixture; stir in buttermilk. Serve with butter and a fried egg.
Get the Bacon-Cheddar Buttermilk Biscuits Recipe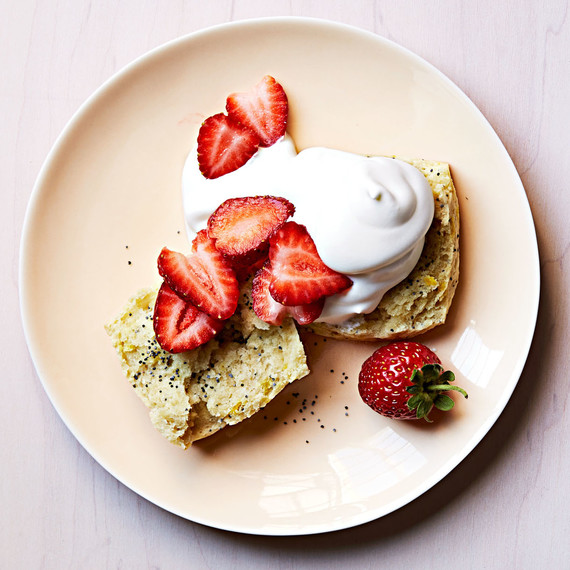 Lemon & Poppy Seed
Pay homage to the scone by increasing sugar to 2 tablespoons in step 1. Whisk 2 teaspoons each poppy seeds and lemon zest into flour mixture before incorporating butter. Serve with sliced strawberries or strawberry jam and lightly sweetened whipped cream (whisk heavy cream with a spoonful of sugar to soft peaks).
Get the Lemon-Poppy Seed Buttermilk Biscuits Recipe