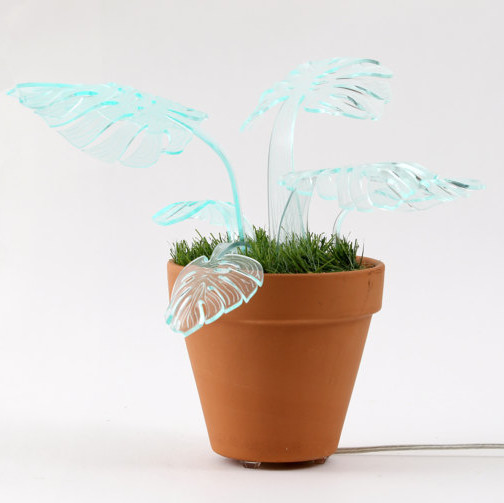 Are you someone seeking low-maintenance gardening, but still want to have all the perks and pride that comes along with having a green thumb? In fact, today, thanks to one bright (literally) botanical invention dubbed the "lamp plant" it's now a radiant possibility.
What's a lamp plant? Basically, it's what you think a glowing plant would be as it's crafted from acrylic materials illumined by LED lights. The leaves are created to look like a real plant as they have etched veins throughout to cast a life-like effect. Naturally, once the sun goes down, these plants glow providing owners with the opportunity to enjoy their essentially care-free plant day and night. This modern plant design is from Mar De Fe (Spanish for 'Sea of Faith') created by Mariana who states on her website, "I believe good design should be available to all and inspire us daily." Mariana suggests in the product write-up that her innovate plants are all truly organic in the sense that no two plants are identical as she designs each one with, "Botanical inspiration in mind."
[CHECK THIS OUT: Enter the "Garden of Light" That Honors Nurses with 2,100 Daffodil]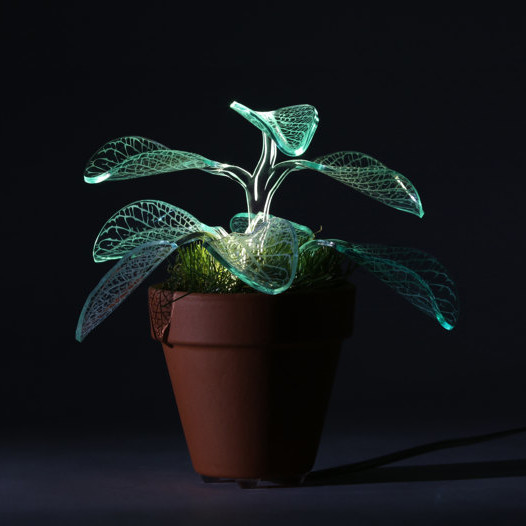 Anyone who wishes to increase a bit of extra greenery in their homes (real or faux) hopes to capture a bit of nature's beauty into their indoor living space. Mariana understands that desire which is what lead her to create such a rare design, saying, "The aesthetics of plants, their shape and structure are designed to be perfectly functional, with each part perfectly in-sync and assisting the other. Nothing is designed as meticulously as nature. This is what makes it so beautiful."
[MAKE THESE: Flowers That Last Forever]
The small LED terracotta plants sell for $85 and the larger one retails for $135. She also sells other variations in turquoise clay pots as well as another glowing plant called the Monstera lamp plant. If these houseplants have your imagination glowing with curiosity you can shop her Esty site as well as follow her on Instagram.  
Feeling inspired? Try making your own night lights in the form of these geo-shaped paper lanterns: