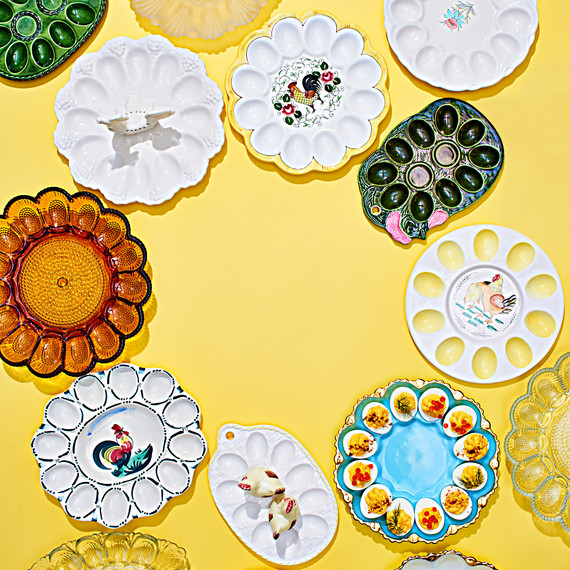 There are so many ways to garnish a deviled egg — if smoked paprika feels ho-hum, you can sprinkle on chopped dill, capers, or caviar (our favorite). But for serving this delightfully retro hors d'oeuvre, one vessel beats all: a platter designed to cradle each bite.
Pressed-glass options hit the scene in the 1920s and '30s. (Today the colored-glass versions, like the one at left, are highly collectible, and therefore harder to find and often more expensive.) After World War II, imported trays hand-painted with chicken motifs (below, left) became popular, as did ones decked out with playful matching accessories, like salt and pepper shakers (below) or a canapé-toothpick holder (above, left).
[SPEAKING OF WHICH: You Have to See This Quirky Collection of Salt and Pepper Shakers]
Whatever the style, we love a dish that does its singular job so well — and makes a devilishly good centerpiece, too.
Hosting Easter this year? Watch how to make your own floral-stamped eggs for a showstopping centerpiece: