You can never underestimate the love people have for their animals. There really is no limit as to what they'll do for them. Just look to pet owner, Frances Ratner, who is so enamored with her cat that she decided he needed his very own castle — his name is Prince Peachblossom, after all.
[TRY THIS: 12+ Cute Crafts to Make For Your Cat]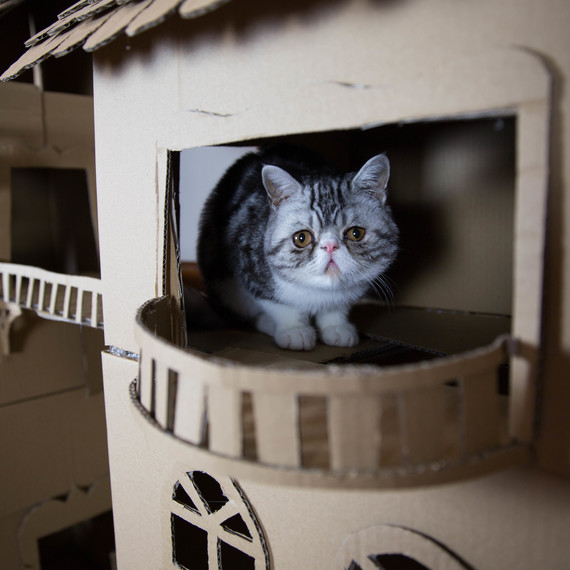 What we wanted to know after seeing the castle (which we just love!) was how on earth did she create such a sturdy structure. We caught up with Ratner to ask her about the project. She told us that Prince Peachblossom only weighs about four pounds and therefore, was able to strut around the castle as he pleased.
[DIY: 16 Things You Didn't Know You Could Make From Cardboard]
And strut he did, around his castle, made completely of cardboard boxes and hot glue that features so many remarkable details, such as scalloped roofing, flower boxes and even a walkway attaching the two towers. We asked Ratner, who told us that crafting is her way to relax and slow down, what inspired her to build the castle. "I watched the 1995 BBC adaptation Pride and Prejudice," she tells Martha Stewart Living, "and by the time everyone was married the castle was done."
[TRY THIS: How to Make a Cardboard Cat Playhouse]
Sounds like Prince Peachblossom is one lucky cat, we hope he enjoys his castle and by the looks of his pictures on Instagram, he certainly does.
Love cats? Meet Martha's pet felines: