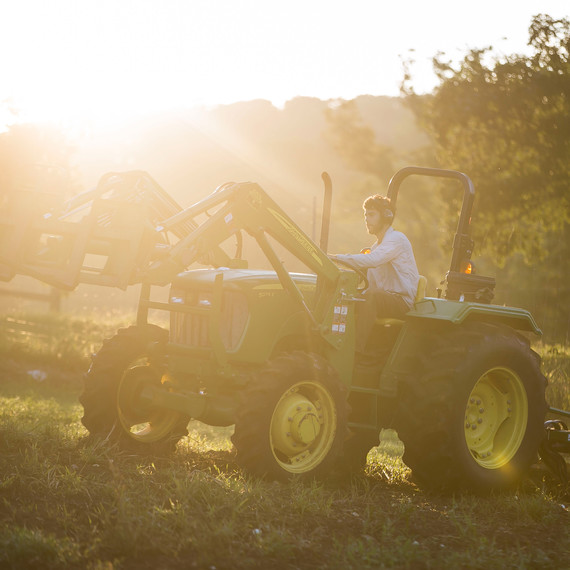 The curiosity about where food comes from and how it's grown has never been higher in the U.S., especially among that coveted demographic, millennials. But while the popularity of greenmarkets and eating local is all well and good, what we really need is this interest to translate into more young people taking up farming. According to the latest agricultural census, there are more farmers over the age of 75 than between the ages of 35 and 44, and there are not nearly enough young farmers, defined as farmers under 35, to make up for the hundred of thousands who are aging out of the industry. It is this "farming gap" that Stone Barns Center for Food and Agriculture, a nonprofit farm and education center in New York, addresses in its first book, "Letters to a Young Farmer."
An anthology of essays, it poses just one question to some of the most influential figures in agriculture: "What would you say to young farmers who are setting out to farm now?" The responses from leading farmers, chefs, activists, and writers, including Dan Barber, Alice Waters, Michael Pollan, Mas Masumoto, Barbara Kingsolver, and Temple Grandin, run the gamut from practical advice for beginning farmers and strategies for reforming our food system to personal stories and the authors' hopes for the future of farming.
The book is a call to arms not only for young and would-be farmers, but also for anyone who cares about the food system in general. Although the public's awareness of the issues confronting farmers certainly won't be raised overnight, "Letters to a Young Farmer" is an important step forward. As Kingsolver writes in one of the first letters, "We need farmers every single day of our lives, beginning to end, no exceptions. We forgot about that for awhile, and the price was immense. Slowly, we're coming back to our senses. Be patient with us. We need you."
Watch Arian Rivera, a young farmer in Warwick, New York share why he became a farmer and discuss some of the misconceptions about the industry: