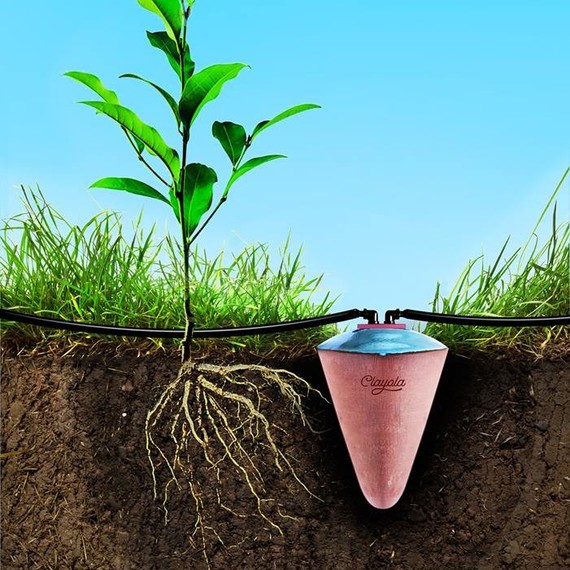 Have you ever gone on vacation and trusted care of your plants to a friend or neighbor? Your plants will be fine if your friend has a green thumb, but other times, your greenery might end up over- or under-watered. 
If you're always hunting for a reliable plant sitter or if you simply forget to water your plants regularly, Clayola pots might be able to alleviate your woes. The 3-by-5-inch clay pods are handcrafted in Egypt, and their special design uses gravity to provide the perfect amount of water your plants each day. When hooked up to a 5-gallon bottle of water, Clayola can sustain up to six plants for a month!
To use Clayola, simply insert the tapered pod into your plant and connect it to a water source via a small pipe. Your water source should be placed at a slightly higher elevation so gravity can work its magic. Then, as the soil around your plant dries up, it will gently draw more water from the Clayola -- just enough to nourish the plant without overwatering. 
"After a while, a plant's root system will find the source of water and literally hug the Clayola, allowing for maximum water use," founder Rami Halim explained to Inhabitat.
Basically, Clayola is the best plant sitter you could ask for! A package of six pods costs around $30, plus shipping, and you can order them through the company's Facebook page. 
Watch: Tips for Watering Indoor Plants