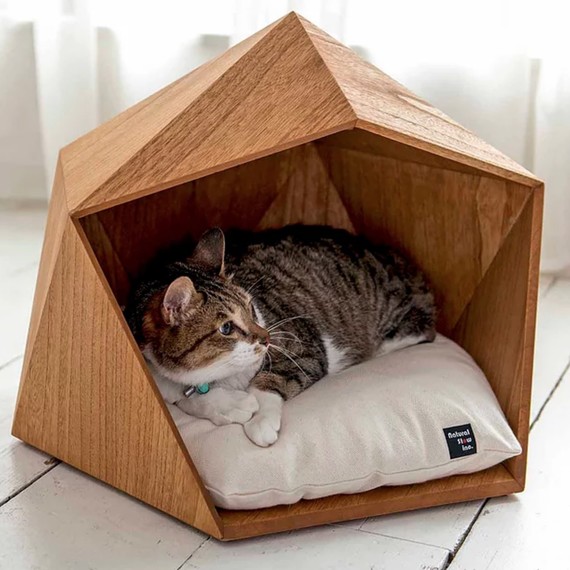 Today, a minimalist approach is inspiring the interior designs of our homes. Whether you're taking this trend literally when creating a gallery wall in your entry way or picking out a new set of furniture, geometric patterns and shapes are not going anywhere anytime soon. However, the geometric design phenomenon may be going to the dogs (and cats) with the design company Natural Slow. They have debuted a new line of geometric-shaped pet beds.
Handcrafted from Paulownia wood, each bed is shaped from one of three different designs: the Kamakura, the Hokora, and the Negura. Each shape is supposed to offer a different experience for your pet — one is composed for sunbathing, while another offers a darker cavernous dwelling — while providing a warm, cozy retreat. Not to mention, the modern design of the wooden huts will look like tiny art pieces resting inside your home. The Hokora bed is geared toward animals who like a hideout spot with little to no interruption as the bed's entrance is a slim triangle shape not allowing much light in or other disturbances inside. (In other words, pets who like privacy will love this wooden hideaway.)
[UNIQUE FIND: This "Smart" Crate Is Designed to Help Relieve Your Dog's Anxiety]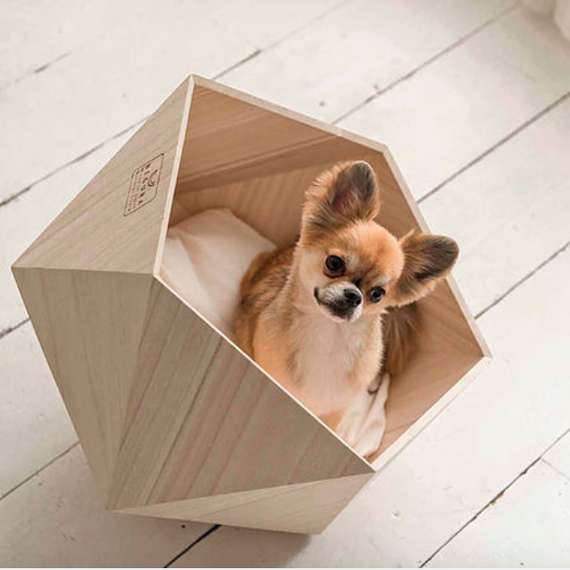 The Negura bed varies in the sense of shape as it takes the form of a pentagon. A "pawfect" napping spot for cats and small dogs who enjoy basking in the sun's warm rays as the opening is slightly bigger and more exposed to the elements. What may be the line's most innovative pet home is their Kamakura bed. The Kamakura resembles an igloo of sorts as it model after Japan's snow huts that children play in. (Of course, no snowball fights will occur in here while your furball is relaxing inside.) The Kamakura bed is ideal for the fur-friend who likes to stay in-the-know as the home's opening is the largest out of the three.
The traditional Japanese wood, Paulownia was a smart decision on the line's behalf as it is known for many of its pet-friendly qualities. The Japanese wood is vastly popular for its climate control properties, pest repellant qualities, as well as being lightweight. In other words, your furry companion is able to scoot his wooden cube room to room with parent approval of course. To acquire one of these art pieces meets pet beds in your home visit Natural Slow website.
Looking for more help? Watch how to thoroughly clean your pet's bed: