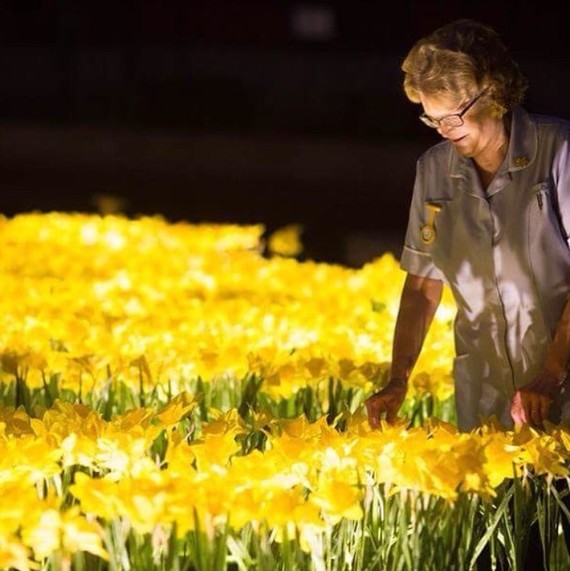 Each year, a welcome sign of spring comes in the form of daffodils sprouting their golden yellow petal heads from the thawing earth. In most parts of the world, it still may be a tad early for the sunny flowers to start making public appearances unless you find yourself strolling through London's iconic park, Paternoster Square, where you'll delightfully discover a garden's worth of daffodils. To be exact, you'll find a patch of over 2,100 daffodils illuminated for London's Garden of Light art installation, which honors nurses and all the good work that they do. (And oh yes, these aren't your typical spring daffodils — they glow!)
The glowing daffodils have the special meaning this year as about a thousand of the blooms are handmade in collaboration with the United Kingdom charity, Marie Curie, which lends supporting hands to the terminally ill and the artist collective Greyworld who is known for making "playful public art" installations around the city. The nature-like exhibition is to convey the overall installation theme, "Bringing light in the darkest hours." Visitors, friends, and family members are encouraged to make their way through the golden lit pathways as stories are read out loud by nurses of the past and presence. Walkers also had the opportunity to write and read personal messages on the exhibit's memory wall. "We created a memory wall, where people could write thoughts and feelings about departed loved ones," Greyworld commented. "Finally, the garden featured recordings of letters written by people touched by the work of Marie Curie. Each one was activated as someone passed by."
[EXCLUSIVE INTERVIEW: A Paper Flower Artist Shares Her Secret to Magical Blooms]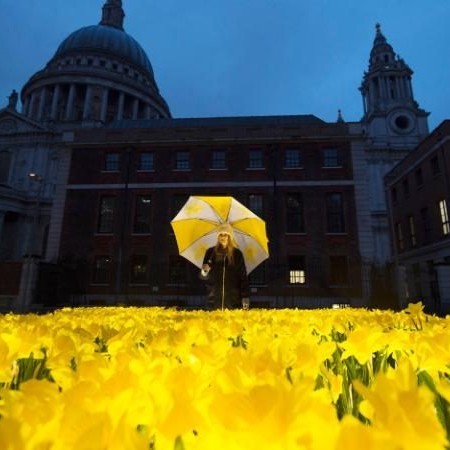 The entire project was originally inspired by the charity, Marie Curie's connection with daffodils as each year the organization holds the Great Daffodil Appeal. This year's Great Daffodil Appeal's theme is, "Every daffodil count" in efforts to provide funds so nurses in the organization can continue assisting those living with a terminal illness. Those who donate are then awarded a daffodil pins to wear the entire month of March.
Dr. Jane Collins, the CEO of Marie Curie spoke about the creative art installation and what she hope will grow from it, she says, "I hope the Garden of Light encourages more people than ever to wear a daffodil this year and show their support" and continues,"Together we can really make every daffodil count." And while the installation may be short-lived, the message behind it will continue to bloom well into the spring. If you are interested in learning more about the Marie Curie charity, the Great Daffodil Appeal, volunteer or make a donation.
Want to learn more? Watch this video for a tour of the garden: