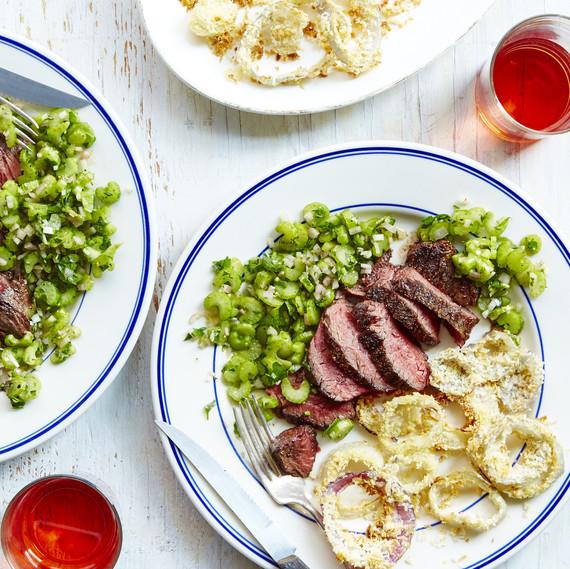 We were excited to team up with Marley Spoon last summer and bring you Martha-approved meals to make at home.  Now, you can snag one of these top-notch dinner kits with the rest of your groceries on AmazonFresh, any day of the week.
Thanks to this sweet new partnership, you get delicious weeknight-friendly recipes, step-by-step instructions, all portioned ingredients included, delivered to your door faster than you can say "hanger steak with baked onion rings and celery salad." Other featured 'Martha-meals' include: oven-fried chicken with green salad, roasted carrots with crispy kale grain salad, and chicken soup with sweet potatoes, collard greens, and quinoa.
(LEARN: How Martha paired up with Marley Spoon)
With a rotating seasonal menu of curated recipes, you're guaranteed to always get the freshest produce along with quality, artisan ingredients -- meats from Pat LaFrieda, dairy from Vermont Creamery, Sparrow Lane condiments, oh my! -- year-round. Another favorite part about Martha & Marley Spoon? Partaking in a mission to not only cook better, but also to reduce food waste. By delivering just what you need for dinner in each meal box, Marley Spoon cuts back on those leftover ingredients that end up at the back of your fridge until it's too late. 
As the weather warms up, we're all for saving time menu-planning, shopping, and prepping, and spending more time doing what you love (like cooking with us!)