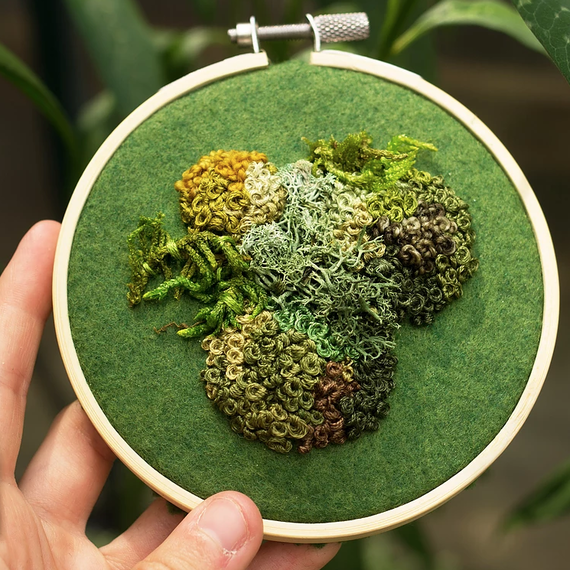 It's hard to know the difference between natural greenery and thread when looking at artist Emma Mattson's work.. and rightly so, as she actually incorporates real moss into her embroidery. 
We were so intrigued by how Mattson creates such life-like mixed media work that we went straight to the source to ask how she does it. She told Martha Stewart Living that she layers felt together to create a three-dimensional shape and uses French knots to mimic the natural texture of moss. She also uses fuzzy pieces of yarn or little balls of felt to replicate lichen and to really incorporate nature into her work, she sews on preserved moss, leaving us wondering which is which. 
Like most artists, Emma Mattson's moss embroidery was inspired by her surroundings. "I live in the woods with a creek in the backyard and when I was little, I would go down and collect moss and mushrooms," she tells Martha Stewart Living. "A lot of my work revolves around environmental concerns. The final products are meant to be beautiful and welcoming, but also question human relationships with nature. Human impact upon nature has caused enormous problems such as global warming, unbalanced ecosystems, the endangerment of pollinators, and clear-cutting. Taking something that is alive and re-creating it to be something more permanent is an interesting concept to me."
[MAKE THESE: Moss Ornaments]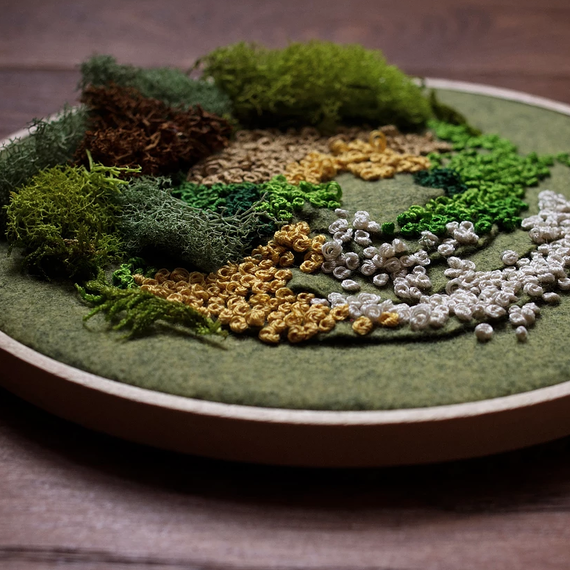 Interestingly enough, photography is Mattson's primary form of art — however, she picked up embroidery when she was having a creative block and found that the two coincided well with each other. "My photography often focuses on documenting landscapes that already exist, while my embroideries are a way of building up landscapes myself," she tells Martha Stewart Living. (Sounds like a perfect creative harmony to us!)
Another great thing about Mattson's work and embroidery in general? She said that the repetitive motion of the needle moving in and out reduces her anxiety and stress. We definitely believe that could be the case for anyone who wants to give embroidery a shot, but heed Mattson's advice "take breaks or wear one of those needlework gloves!"
[LEARN THE TECHNIQUE: Embroidery How-To]