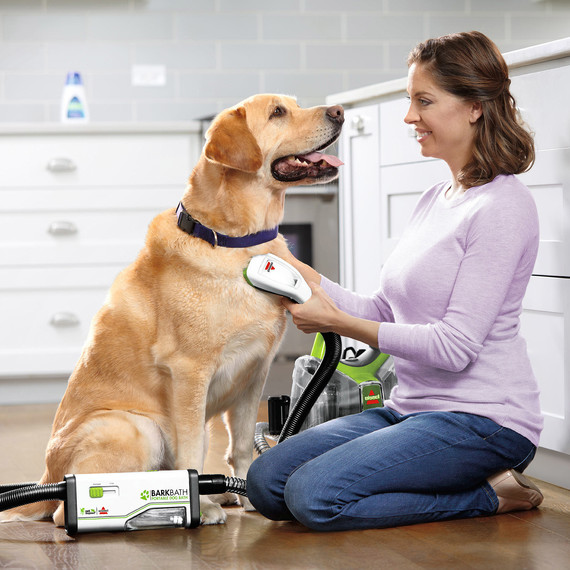 It's easy enough to wash your dog in the summer, when you can give your canine companion a bath outside. However, it's a whole different story when your dog gets muddy, wet or smelly during the winter -- do you just wipe him down and hope for the best? Or try to wrangle him in the tub? Neither option seems very appealing. 
Finally, this common dilemma is being solved thanks to the new BarkBath portable dog grooming system from BISSELL. The compact system uses a special nozzle to penetrate your pet's coat with shampoo and water, then immediately suck the liquid back up and transfer the dirty water into a separate tank. You can also change the nozzle depending the length of your dog's coat, allowing you to get the optimal clean.
Because there's no water dripping off your pup, BarkBath allows you to wash your dog just about anywhere! Just have a towel on hand to wipe him down after. 
This new pet grooming system is definitely a game-changer -- no more fighting with Fido to get him into the shower, and no more dirty, wet dog odors stinking up your house. BISSELL does note that the BarkBath makes a sound similar to a vacuum, so if your dog is afraid of the vacuum, he might not be comfortable around the grooming system.   
BarkBath will retail for $149.99, but you can pre-order the system for a discount through BISSELL's Indiegogo campaign. 
Related Video: Pet Grooming Tips