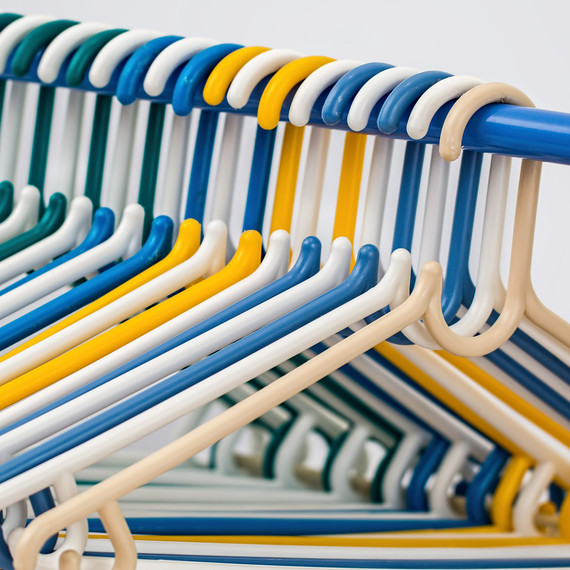 Clothing hangers are a pretty standard item in every home, but the traditional design isn't a one-size-fits-all product. You know what we mean if you've ever tried to store accessories or pants on a normal hanger -- your possessions usually end up on the floor. 
For that reason, dozens of special-use hangers have been created, each with a unique purpose in your closet. Here are five types of unusual hangers and the best way to leverage them in your closet. 
To Optimize Space: Higher Hangers
If you have a small closet and a lot of clothes, it can be tricky to get everything to fit nicely. Luckily, there are specially-designed hangers available to help you use every last inch of your closet. 
Case in point? The Higher Hanger, which creates more space at the bottom of your closet by raising the hanger closer to the closet rod. According to the company, raising your clothes up a mere 4 inches can create enough extra space in an 8-foot long closet for 48 shoe boxes!
[CHECK OUT: Tips to Maximize Closet Space]
For Accessories: Hang-Over Hangers
Traditional hangers just aren't designed to hold scarves, necklaces, purses and other accessories. Hang-Over Hangers can help in this department. 
The modular hangers come in two shapes -- one that resembles a C and another that's shaped like a G -- and these pieces can be linked and arranged to stylishly hold all your accessories. As an added bonus, Hang-Over Hangers come in cute colors, so you can color match to your traditional ones. 
To Save Necklines: Hangtight Hangers
Plastic and wooden hangers aren't exactly known for their flexibility, which can make it tough to store shirts and sweaters with rigid necklines. For those tricky tops, use the Hangtight Hanger, which is designed for easier application without damaging your clothes. No more tugging at collars to get them onto the hanger! 
For Kids: Playhang Hangers
When they're in a rush, kids often pull their clothes off hangers quickly, which can compromise the structure of a garment. To keep your children's clothing in top shape, get them special hangers like those from Playhang. 
These adorable animal-themed hangers have an easy-release mechanism that will keep clothes from being pulled every which way. Plus, they're so cute your kids might actually want to hang up their wardrobe, instead of tossing clothes on the floor.
[CHECK OUT: 9 Organizing Solutions or Kids' Closets]
For Travel: Amazing Hangers
While these haven't yet hit the market (due out in September 2017), if you've ever tried to fit a traditional hanger into your suitcase, you know it's a task easier said than done. Next time you want to bring along a hanger on your trip, opt for the Amazing Hanger, which folds up compactly for easy storage and expands into a full-size hanger when needed!