At first glance, the numbers look good: nearly half of all culinary students today are women. Yet, according to a Bloomberg study, these women hold less than 7 percent of head chef roles at the country's top restaurants.
Even for women who have managed to climb the culinary ranks alongside David Chang and Michael Pollan, recognition is still hard to come by. So, what happened along the way?
"The gastro-ceiling," says Rohini Dey, the Chicago-based restauranteur of Vermilion and James Beard Foundation trustee who coined the term. "The restaurant industry is built to be intrinsically male-dominated. For a supposedly female domain, the numbers are still dismal!" 
She admits the industry's physically demanding nature is just part of the roadblock. It's hot. It's heavy labor. It's standing for 14 hours. But that isn't all. Not only are many young women lacking a solid financial literacy, but Dey says they're lacking the self-confidence to reach their full potential. That's why she teamed up with James Beard President Susan Ungaro in 2012 to launch Women in Culinary Leadership, a six to twelve-month mentorship program for young aspiring female chefs.  
(MEET: 5 women winemakers who are revamping vino)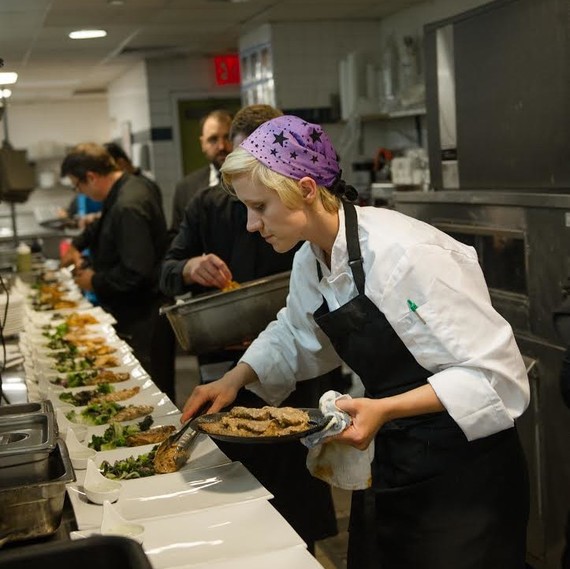 The program, currently taking applications for their 2017 class, aims to help women build grit, aspire for scale, lead kitchens, and become preeminent restaurateurs.
"We want to open their eyes that they're more than just these 'pink' pastry and cold stations," says Dey of what are notoriously known as the softest sides to the business. By pairing candidates with top chefs and culinary mentors, Dey and Ungaro aim to inspire women to branch out from cooking in the kitchen to, one day, running their own.
"Successful female chefs don't want to be called female chefs," says Ungaro. "They want to believe they got ahead because they were good chefs, not just because they were women." And though she knows there's a ways to go before we close the gap, Ungaro is optimistic about change. "We need to talk about it and make people aware. We're not just raising the flag. We have to wave it."
(READ: The Female Chef You Need To Know About)