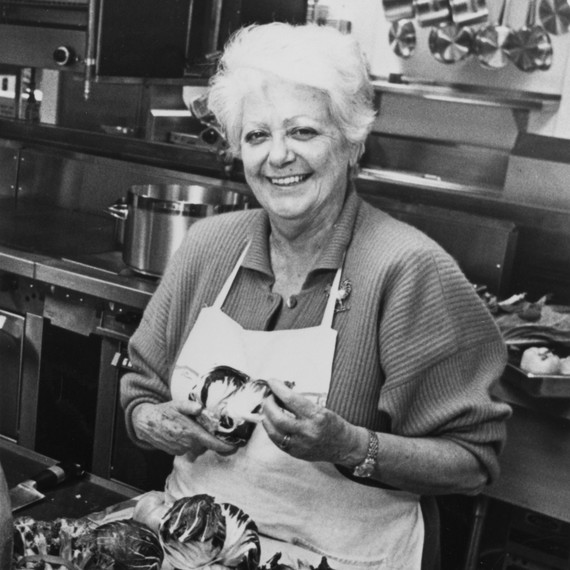 Italy's greatest gift to home cooks everywhere, that's how I would describe Marcella Hazan. Others might call her the woman who gave America pesto. When she died at the age of 89 in 2013, I paid tribute by cooking -- although perhaps that isn't the right word for first wading out into a sunny-smelling basil patch and gathering an armload, then making pesto, which Marcella called the most seductive of all sauces for pasta.
You'll find the recipe in "Essentials of Classic Italian Cooking," a book that belongs in everyone's culinary library. Published in 1992, it was an updated compilation of Marcella's earlier "The Classic Italian Cook Book" (1973) and "More Classic Italian Cooking" (1979). Aside from 50 new recipes, additions included a chapter called "Fundamentals," a treasure trove of information about ingredients and how they respond to different cooking techniques. Odds are, even the most experienced home cooks will learn something about the Italian art of making something transcendent out of simple, even austere, components.
A great example of this is Finocchio in Insalata, my default cold-weather salad after roast pork loin, duck, or other rich meats. "No vinegar or lemon juice is used on raw finocchio when it is served alone," the note reads. All you do is cut a fennel bulb into the thinnest possible rings, soak them in a couple of changes of cold water, dry them, then "toss in a serving bowl with salt, enough olive oil to coat well, and liberal grindings of black pepper."
In "Amarcord," Marcella's 2008 memoir, she recounted that this salad was part of the multicourse lunch she served Craig Claiborne, the food editor at the New York Times, in 1970. By then, she and her American-born husband, Victor Hazan, had spent time in both Italy and New York, and by sheer happenstance, Marcella had been giving cooking lessons in their Manhattan apartment. Claiborne heard about the classes and came for lunch. And before she knew it, Marcella was propelled into a new career. "I have never since then had to be concerned about how to occupy my time," the former biologist airily explained. Her first book was published three years later. One of the most famous open secrets in the culinary world, by the way, is that Marcella could not write in English. Victor, her "inseparable collaborator," translated her recipes and channeled her singular voice into prose with the seamlessness that comes with 53 years of marriage -- not to mention sitting down to lunch together every day.
Marcella was a formidable teacher, and her brusqueness stood in contrast to the ebullience of Julia Child, to whom she is often compared. At the end of the day, though, she was really more about sharing than instructing, and the tone of her books is relaxed and alluring in a way that is typically Italian. "Pesto is the sauce the Genoese invented as the vehicle for the fragrance of a basil like no other, their own. Olive oil, garlic, pine nuts, butter, and cheese are the only other ingredients," reads the relevant section in "Essentials." "It is unlikely that any pesto will taste quite like one made with the magically scented basil of the Italian Riviera. But never mind, as long as you have fresh basil, and use no substitute for basil, you can make rather wonderful pesto anywhere."
And although there are some cooks who insist that pesto isn't the real thing if it isn't made with mortar and pestle, Marcella, a staunch traditionalist in other ways, wasn't one of them. The word pesto, of course, comes from the verb pestare (to pound), and she outlines the classic method. But, "it would be a greater pity … to pass up making pesto at home because one has not the time or inclination to use the mortar," she wrote, and preceded the mortar recipe with a "nearly effortless and very satisfactory" food processor method.
Almost everyone who reads Marcella's books has at least one favorite recipe. I think the first bird I ever cooked was her Roast Chicken with Two Lemons, and it's still in my culinary repertoire. Her Meatballs and Tomatoes? My husband's benchmark. And one of the most Googled recipes of all time must be Marcella's Tomato Sauce with Onion and Butter, which has (aside from the pasta and Parmigiano) just four ingredients: fresh or canned tomatoes, an onion, five tablespoons butter, and salt. With each new generation of cooks, its fame continues to grow. And with the recent discovery of seven Earth-size planets orbiting a star just 40 light-years away, I'm thinking that one day it could even go interstellar.
Watch Marcella make tortelloni with Martha: