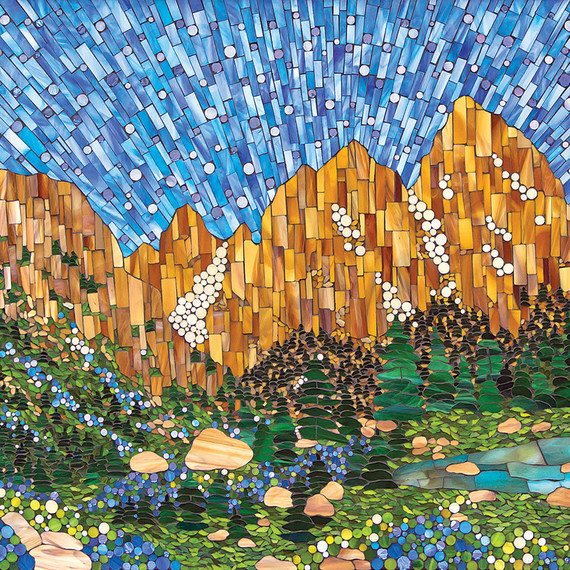 Nature is beautiful without even trying — the trees, mountains, flowers and bodies of water evoke all sorts of inspiration. For Kasia Polkowska, an artist based in Alamosa, Colorado, it was her love for nature that inspired her to create many of her breathtaking stained glass mosaics.
Polkowska received her BFA in Fine Arts from the Pratt Institute in Brooklyn, NY in 2006. A year later, she found a job at a commercial stained glass mosaic tile studio in Manhattan, where she had her first experience of working with glass creating decorative designs for casinos and other large commercial projects. She fell in love with the art form and hasn't looked back since. A main focus of her artwork is nature, however she also creates fantasy and abstract pieces.
It is Polkowska's love for the outdoors that drives her to create her landscapes, she tells us. She takes in the colors, the flora and fauna, the unique geological formations and the light of each new place — capturing it all in photographs to use as reference to come up with the image that summarizes her impression of that particular place. "The kind of views that I'm really drawn to are those epic vistas you'd see on a puzzle box," Polkowska told Martha Stewart Living. "I love knowing that these kind of views exist by the millions and that you can actually seek them out and get lost in them in real life." The final products she creates are mesmerizing lifelike mosaic landscapes that could definitely be put on their own puzzle boxes.
[TRY IT: Give Your Windows a Beautiful Stained Glass Effect]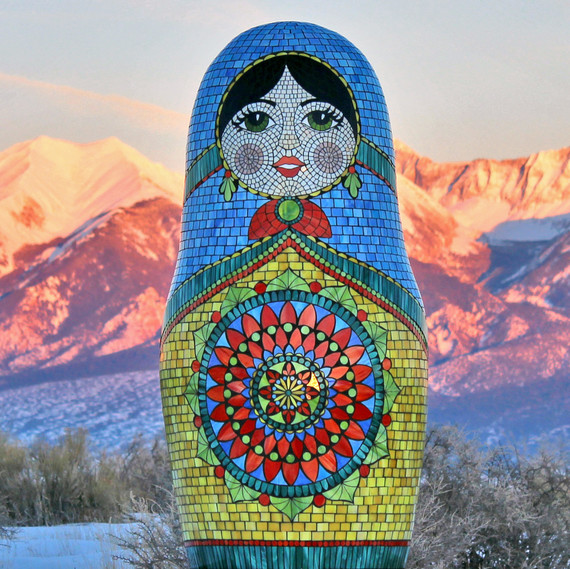 A new medium Polkowska has been exploring is stained glass mosaic work on sculptures. (She also draws, paints and takes photographs.) Her most recent sculpture, in collaboration with sculptor Kyle Cunniff, is a four-foot matryoshka doll (also known as a Russian stacking doll) sculpture entitled "Johona Mai," which means "Sunny Bright Flower" in Navajo. The colors of the sculpture were inspired by Alamosa, Colorado, the town where Polkowska and Cunniff both reside, which is known as "The Land of Cool Sunshine" — and it is Polkowska's Polish heritage that inspired the matryoshka doll form of the sculpture. The two artists displayed the final product against a mountain range and the combination of the sculpture and nature is simply astonishing. This is only Polkowska's second sculpture, however she shared with us that one of her recent dreams is to design a mosaic sculpture park filled with whimsical, colorful sculptures, so it most certainly will not be her last.
Polkowska has been practicing the art of stained glass mosaics for ten years. To that effect, she told us that being an artist does not happen overnight. "Spend time sketching, experimenting and finding your own voice," she encourages aspiring artists. "Putting in the time to develop your technique in whatever medium you are drawn to is crucial. Ideas and concepts are great but if you don't have a way of expressing them in an effective way, they won't come across as you imagined. Practice, patience and persistence are key." Next up for Polkowska is to combine ceramics, glass, and photography in her upcoming projects as she continues to plans for her mosaic sculpture park. To see more of Polkowska's work, you can follow her on Instagram as well as her website.
Watch Kasia Polkowska at work as she creates a flower mosaic: