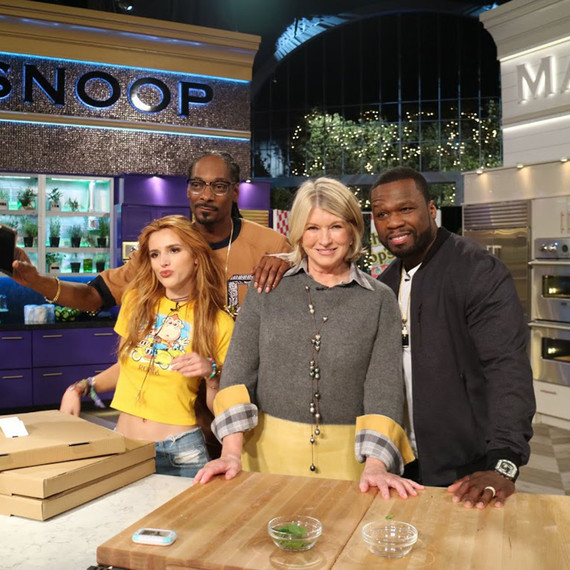 On the season finale of "Martha & Snoop's Potluck Dinner Party," Martha Stewart and Snoop Dogg invite their guests Fifty Cent and Bella Thorne to help make pizza. From a fancy three-cheese pie (Martha) to a version featuring just about every ingredient found in the kitchen (Snoop), our favorite odd couple teach everyone a few things about pizza.
1. Pizza and sex are very similar
While introducing the show's theme, Martha mentions that "there is no wrong way to make [pizza]," a statement that Snoop seems to agree with ... and expands on: "And, like sex, even when it's bad -- it's good!"
2. Tossing pizza dough is a world-renowned activity
Joining the hosts is four-time world champion pizza tosser Joe Carlucci, who spends the episode tossing pizza in the background while the house DJ plays accompanying tunes.
3. An Aperol Spritz goes great with this classic Italian dish
Mixing Aperol, Champagne, brown sugar, orange slices, and ice Martha prepares a spritz for Snoop and herself. Snoop makes a toast: "Here's to you, here's to me, my fly-ass B, I'm your number one G, you are great in the kitchen, I am great in the sack, you are my snow bunny and I got your back."
(Make a Spritz: Get our Recipes)
4. There is such a thing as "rich people pizza"
When describing the food that she'll be preparing with Fifty Cent, Martha mentions a three-cheese pizza with spinach, mint and truffle. The rapper's sly response? "We going to make rich people pizza!"
5. Not everybody can be an expert pie maker
Although Bella, Fifty Cent, and Martha have no trouble shaping their dough, Snoop does. Eventually he turns his dough into a square-shaped delicacy then he complains about his inability to achieve the roundness -- referring to his pie as "SpongeBob-shaped."
6. Prank calling pizza parlors is still a thing
Snoop asks Martha if she has ever prank called a pizza spot. "Yes, in high school. We sent quite a few pizzas to a friend that we didn't really like," she recalls. "We timed them so they would come at 9:00, 9:15, 9:30." In true Snoop fashion, he suggests pranking a parlor right then and there -- and we're oh-so-glad he does that on national television.
7. Looking to top your pizza with truffles?
Snoop asks Martha about the difference between black and white truffles, her answer: "White truffles are from Alba, Italy and they are discovered by pigs usually. The black ones now grow all over the world, they're actually cultivating [them]." When she mentions that the white ones are more expensive, Snoop responds: "Hey, black truffle lives matter too." We, of course, start laughing.
8. Pizza inspires Snoop's best grace yet
As usual, Snoop recites grace before they all dig into their meal and this week he really nails it: "We thank you so much for this pizza pie, we made it ourselves: no delivery guy. So please grab a slice, no need to be shy, we'll eat, drink and maybe get high. Amen!"
(Get our Unique Pizza Recipes)
9. And Martha's first foray into porn
Martha mentions the pizza delivery guys that are usually featured on adult films. With the help of her guests, she outlines her first "porn story," about "the very sexy Britney" -- who drops the pizza!
And with that, it's a wrap. But don't be sad Martha and Snoop will be cooking up some more fun with season 2.
Follow Martha on Facebook and Instagram to find out about more about the next season of "Potluck Dinner Party" -- and so much more!