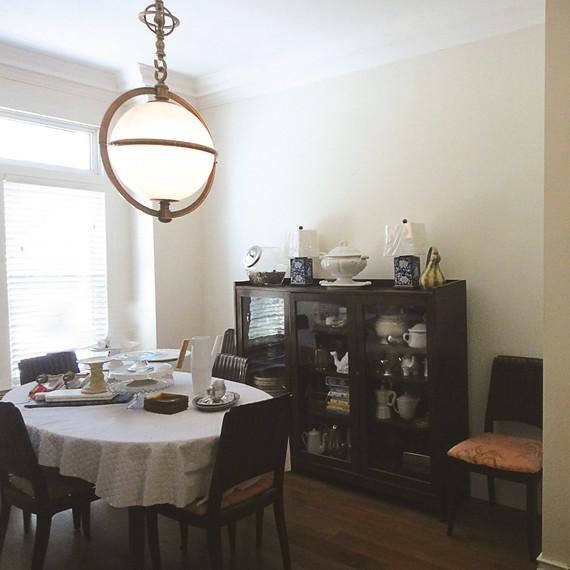 AFTER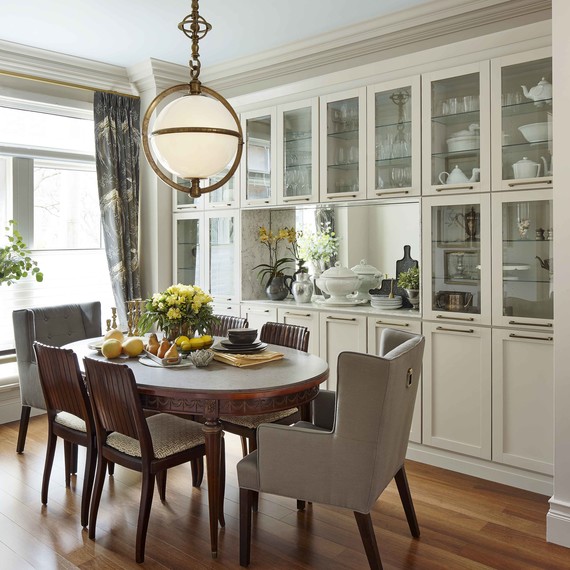 Karl Lohnes' 145-year-old townhouse in Toronto, Canada faces the classic problem of historic homes -- the rooms are small. His dining room measures 10 1/2 feet by 9 feet and for someone who enjoys displaying unique collections, the lack of space is not ideal. To honor the character of his home while also providing functionality, Karl created faux built-ins using only upper cabinets from Martha Stewart Living™ Kitchens at The Home Depot. The renovation took his dining room from cramped to welcoming, all while staying budget-friendly.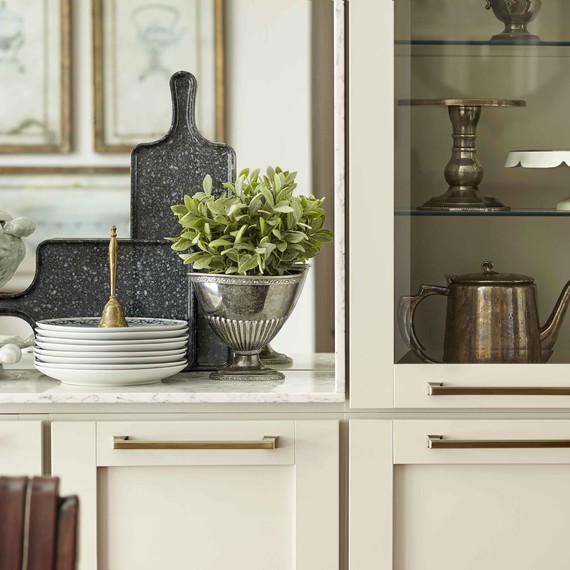 The cabinets are part of the Maidstone collection, described as 19th-century Shaker style with modern touches. The flat panel doors don't compete with the room's other decor and it truly feels like a piece of finished furniture. Karl chose Sharkey Grey for the color, a beautiful neutral that helps to brighten the space. Streamlined cabinet hardware installed horizontally round out this polished, modern look. He also painted the baseboards, remaining walls, and crown moldings the same Sharkey Grey color in order to make the new cabinets look like they had always been part of the home's surrounding decor.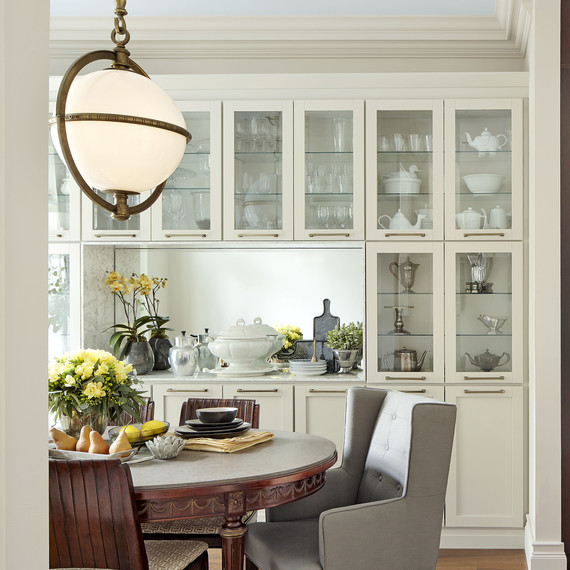 The glass panels and countertop cutout are perfect for showing off special heirlooms and servingware. Karl kept his display pieces from dominating the overall look of the room by sticking to a neutral color scheme of silver, white, and clear glass. The paneled doors on the bottom row of cabinets adds variety and plenty of much needed functional storage.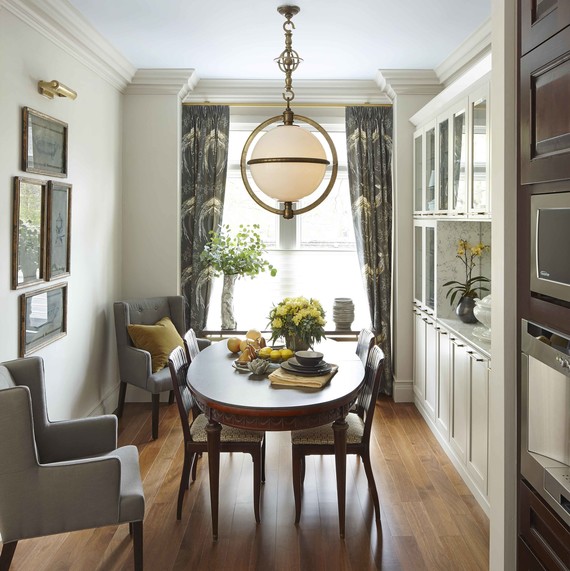 Combined with a beautiful table, statement chandelier, and decorative wall accents, you'd never know the oversized, custom designed china cabinet actually had its roots in the kitchen. The cabinetry style selected for the dining room doesn't compete with the kitchen, although it does help to define the space in a way it hadn't been before while also not taking up too much precious floor space.
Like Karl, Martha thinks kitchen cabinets can make a great addition to any room of your house. Get creative and design something totally unique to your home! As Martha says, "You can use my cabinets and countertops in any room you'd like. They can be used as storage cabinets and benches in entryways and mudrooms, or to create a functional laundry room. You can add details such as beautiful corbels and feet to build free-standing pieces -- a bar or entertainment unit for the living room, for example. And with a moisture-resistant PureStyle finish, my cabinets will even stay beautiful in the bathroom or in a potting room."
And what does Martha think of Karl's dining room makeover? "It looks wonderful. We made a point of designing my Martha Stewart Living™ cabinets with furniture-like details so they can be used outside of the kitchen and look like they belong there. Karl has turned his wall into a beautiful, extra-large china cabinet. He'll be glad he had the foresight to include so much storage space."
Feeling inspired to "think outside the cabinet" and use this multifunctional item throughout your home? Schedule an appointment at The Home Depot to meet with a designer and start planning your dream home!
And to read more about Karl and his design ideas, visit his blog.