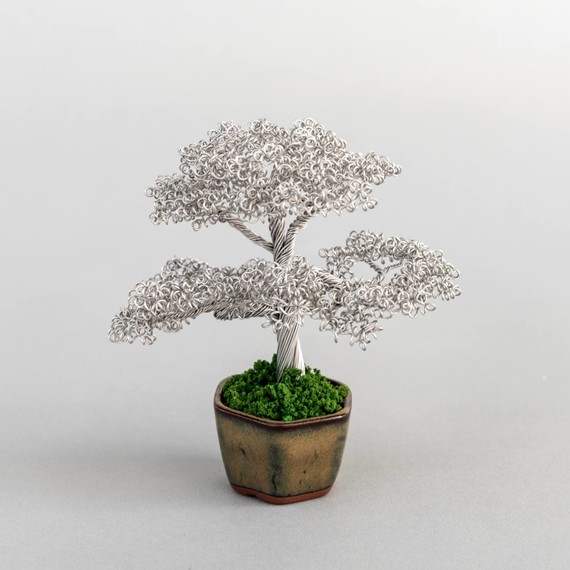 You've seen ornamental bonsai trees and perhaps, you grow these small-scale shrubs in your own spare time. A bonsai tree is purposely dwarfed to prevent from growing true to size, and they involve careful watering and pruning to keep their beauty intact. But what if you could have an everlasting bonsai tree just as tranquil and beautiful as the real thing, without the upkeep? Thanks to the innovative creations of Matthew Gollop from Metal Bonsai, now you can.
Did we forget to mention that the no-water tree is constructed from wire? At first glance, it's hard to tell that the metal tree isn't a real bonsai tree although a faint luster gives a subtle glowing hint. Gollop, who hails from Norfolk, England, spoke about his small-scale sculptures, saying, "Created from hundreds of strands of wire which run from root to branch tip/ foliage cluster, the trees support themselves and no glue is used. Each tree sculpture is unique, just like the real thing."
[MAKE THESE: 10 Paper Blooms That Last Forever]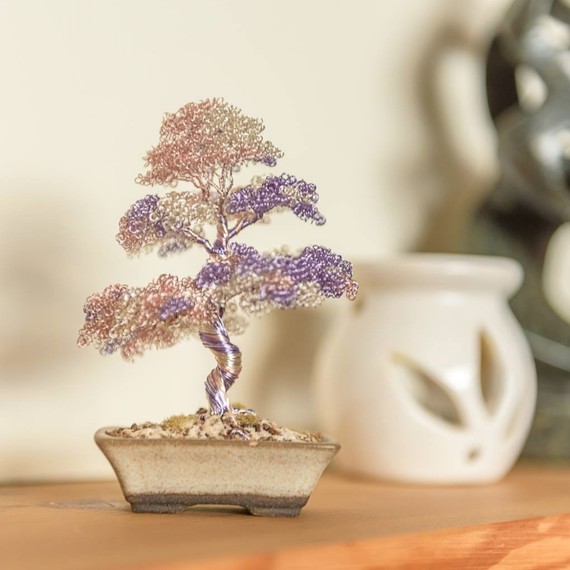 Each of Gollop's life-like creations is inspired by the state of zen beauty that the bonsai tree is known for. Each metal tree is carefully crafted to replicate the well-known twists of the branches and trunk. After construction, the wire tree is placed in a complimenting pot to be enjoyed by its new carefree owner. Usually, it takes Gollop between 150 to 500 feet of wire to construct just one tree. In his shop, you can pick from a variety of wire trees, not just bonsai variations as he also sells abstract and canvas wire tree art too. Naturally, owning a metal bonsai tree is a unique thing to possess, but they can also be handy for those who love plants but alas are minus a green thumb. can "Although I have spent over 30 years on this earth, it has only come to my attention the beauty and strength of trees," he says. "Once awakened to such a thing you realize they are everywhere, gentle giants which we share the planet with. I have always been interested in bonsai but have never been very good at keeping them alive."
[DON'T MISS: "Floramics" are the Perfect Solution When You Don't Have a Green Thumb]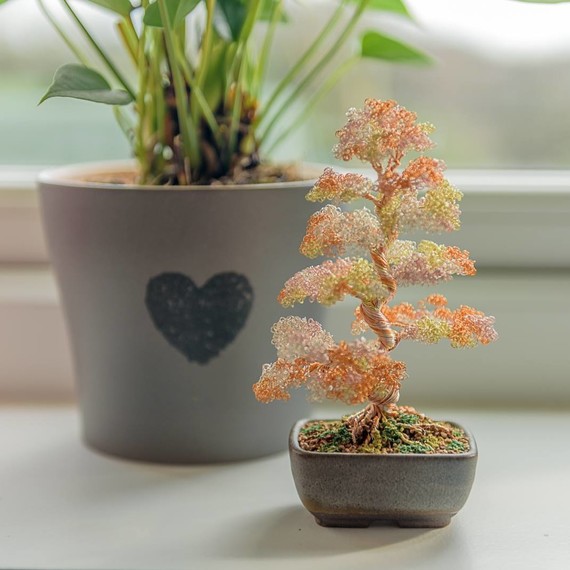 Gollop creates realistic bonsai trees using wire that mimics Mother Nature, but for the bold, he also has trees in vivid tones of bright purple and green wires too. Not to mention, Gollop has a pretty selection of copper wire bonsai trees in his online shop. Whether you have a green thumb, don't have one, or just love unique wire-made Gollop's sculptures are something to be admired. Also, be sure to keep up with the wire botanist and his unique new designs on Gollop's Facebook page.
Feeling inspired? Welcome spring with a beautiful metal-sheet wreath: