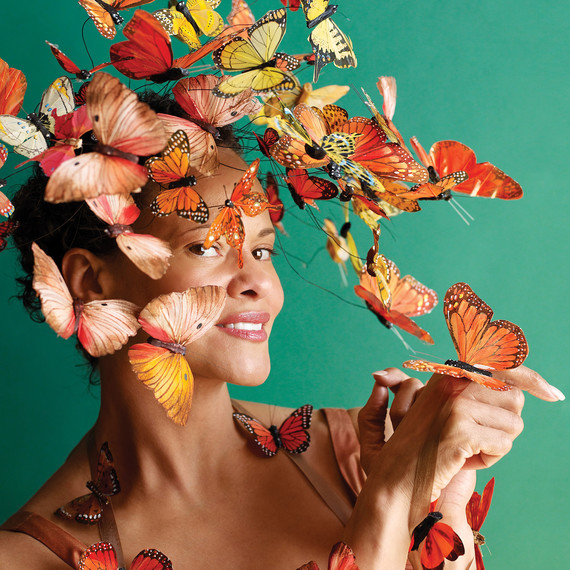 First, there was the floral crown. Then, there was the mermaid crown. Now, makers and do-it-yourself bloggers are inspiring us with a new spring headpiece craze: butterfly crowns.
Wherever would you wear such a thing? Au contraire, it's a perfectly pretty idea for a spring weekend project, a baby shower activity or party favor, or perhaps even a crafternoon with the girls. Frankly, we think it's amazing that it has taken this long for butterflies to float their way onto our already blooming with beauty flower crowns, since we did this eons ago. Luckily, clever crafters, Instagrammers, and beauty gurus have a series of butterfly-inspired crowns that are not only budding with springtime delight, but can be made before the first tulip sprouts.
[TRY OUR VERSION: The Madame Butterfly Crown]
As for some of our favorites? Designer Jill Prettyman creates delicate accessories — all by hand — in her Southern California home. Her pieces range from sparkly seashell-inspired hair pins to gilded leafy handbands, but we love her Snapchat-inspired butterfly hair combs that are surprisingly sophisticated.
The accessory makers at Wild and Free Jewelry understand a thing or two about creating mythical (and downright enchanting) crowns that range in color, size, and aesthetic. It's the butterfly crowns you'll want to notice when selecting your entire floral ensemble as you'll be inspired by their brightly-colored winged Monarch butterfly crowns. 
Naturally, springtime is a season that offers endless inspiration with thriving greenery, blossoms everywhere in sight, and graceful butterflies. Together, they create a beautiful spring craft. So why not try your hand at making one this weekend? You'll look so fly (pun absolutely intended).
And while you're feeling inspired, watch how to make this beautifully hand-painted spring wreath: