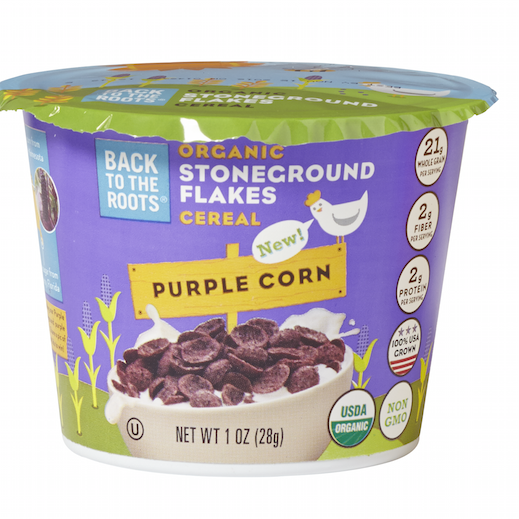 Thanks to one small food company, the 254,000 New York students on free breakfast plans can now start their days off right. California-based Back to the Roots, one of our American-Made winners, is bringing the country's first certified biodynamic cereal to public school cafeterias. And with significantly less sugar than the prior offerings, no preservatives, and just four whole organic ingredients, many are happy about this big "seed-to-spoon" step. 
(LEARN: more about Back to the Roots cereal)
"Breakfast is really important to us, and we're trying to get our menu to where we want it to be," Eric Goldstein, chief executive of The Office of School Support Services told the New York Times. "In the world we live in, there are so many constraints, so being able to offer [these] cereals for us is like a breath of fresh air."
After Kellogg discontinued two Kashi cereals previously offered in city schools last year, Back to the Roots helped fill a much needed gap. Since Congress passed the Healthy, Hunger-Free Kids Act in 2010, schools have been encouraged to revise their nutritional standards in order to meet federal subsidies. But with pressure to find higher-quality, cost-friendly options that kids also enjoy, meeting these standards has been proven tricky.  
(MAKE: your own granola, here's how)
Back to the Roots founders, Alejandro Velez and Nikhil Arora, seemed to have cracked the code.  "We're most excited that kids in New York City CHOSE these cereals through taste tests," Arora told us. "They're the ones saying that a cereal with one third the sugar and no refined grains actually tastes better!" 
Goldstein says student popularity, lower sugar content, and the organic factor offset the higher cost of the two new cereals. With a young company like Back to the Roots breaking into the big leagues -- via the nation's largest school system to boot! -- we might just see more similar (and healthier!) moves in the future. 
Learn more about Martha Stewart's American Made Program which Back to the Roots won in 2013