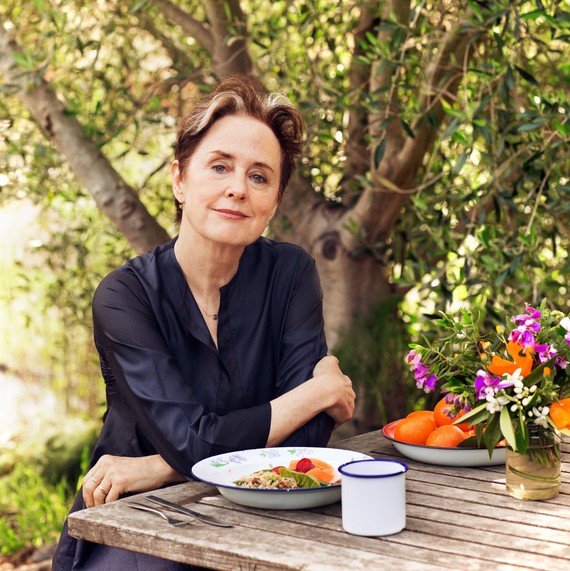 Farm-to-table cuisine is the norm now for modern, environmentally conscious chefs, but that hasn't always been the case. When Alice Waters returned to the U.S. after studying in France during college, food was prepackaged or frozen, and often highly processed. She missed the simple, true taste of seasonal fruits and traditionally made bread. 
After working as a teacher, Waters decided to open a casual restaurant inspired by the cafes she had enjoyed in France. While sourcing ingredients for Chez Panisse, which opened in Berkeley, California in 1971, she realized that organic farms produced the tastiest food and the roots of the American slow-food movement were planted. Chez Panisse was ground-breaking and Waters was soon a leading activist as well as influential chef and educator, seeking to transform people's relationship to food.
As her popularity grew, Waters used her celebrity to advocate for locally produced, seasonal foods, and for organic-farming methods. In and around Berkeley, she organized programs to cultivate and maintain organic gardens for public-school lunches. In the mid nineties, she established the Edible Schoolyard, a one-acre garden and kitchen classroom at a local middle school where students learn to grow, harvest, and prepare organic produce. There are now affiliate programs in New York City, Los Angeles, San Francisco, New Orleans, and Greensboro, North Carolina.
(WATCH: Alice and Martha tour the first Edible Schoolyard)
Perhaps her greatest influence on public policy came when she championed an organic garden at the White House. Already promoting her Let's Move! campaign to reduce childhood obesity and develop healthy-eating habits, Michelle Obama was quick to sign on to Waters's project and had a garden planted on the grounds in 2009. It has become a beloved feature on the White House lawn, so much so that the First Lady expanded and reinforced the lot with concrete and steel before leaving office in January this year.
But Waters's activism has a long and rich history that is not only related to agriculture and nutrition. In college at the University of California, Berkeley, Waters joined the Free Speech Movement in protest of the Vietnam War. During the sixties, she and fellow students would challenge the United States' involvement in military actions overseas. Waters also supported the campaign of a local anti-war politician, and often cooked for the staff.
Among her many other achievements, she has authored over a dozen books on cooking and holistic eating, including Chez Panisse Cooking and The Art of Simple Food. (Waters even wrote a children's book starring her daughter, Fanny.) As a pioneer of farm-to-table cuisine, Waters has influenced a generation of chefs and restaurateurs including David Chang, Dan Barber, and April Bloomfield. She is almost as well known for her humanitarian work; she started the Chez Panisse Foundation and Edible Schoolyard and is on the boards of Slow Food International and Yale University's Sustainable Food Project.
Watch this classic video where Alice Waters and Martha explain what to look for when choosing fresh, seasonal fruits: