March is Women's History Month and March 8th is International Women's Day, a worldwide celebration of women's social, economic and political achievements. Now, more than ever, it's important to toast the progress that women have made -- and why not do that with a female-produced wine?
According to the Wine Institute, 57% of wine purchases made in the U.S. are made by women. Only an estimated 10 percent of California's winemakers are female, as reported in a study from Santa Clara University -- and as for the rest of the world, that figure may be even lower. As any woman who has tried to progress in a male-dominated industry knows, closing the gender gap is no small challenge and we applaud the women who are at the forefront of winemaking today. We asked 5 of our favorites to tell us the wine that is most expressive of their winemaking philosophy and style. These wines are beautifully crafted and full of elegance and finesse ... and tasting them leaves no doubt that the future (of wine) is female.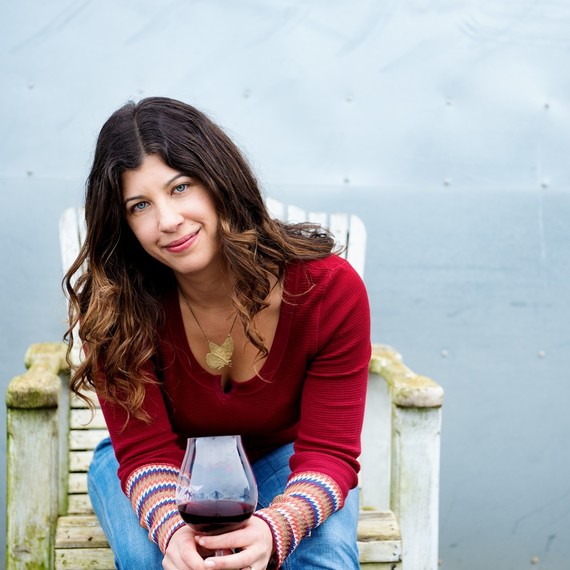 Melissa Burr, Stoller Family Estate
Melissa was raised in Oregon's Willamette Valley, one of the best growing regions in the world for high quality Pinot Noir. After studying winemaking and fermentation science at OSU, she worked as a harvest hand at several local wineries and as production winemaker at Cooper Mountain before landing at Stoller in 2003, where she has been helming the cellar ever since. She considers her signature wine to be Stoller Family Estate Dundee Hills Pinot Noir 2015:
"It's our mosaic wine: you get a really good representation of our site including all of our clones and elevations because it is a blend of our entire property. It's a great, balanced snapshot of Stoller and our winemaking style." Elegant and approachable, this wine -- entirely made from estate fruit -- beams with bright cherry fruit and beautiful floral aromas.
(TRY: these five lesser-known red wines)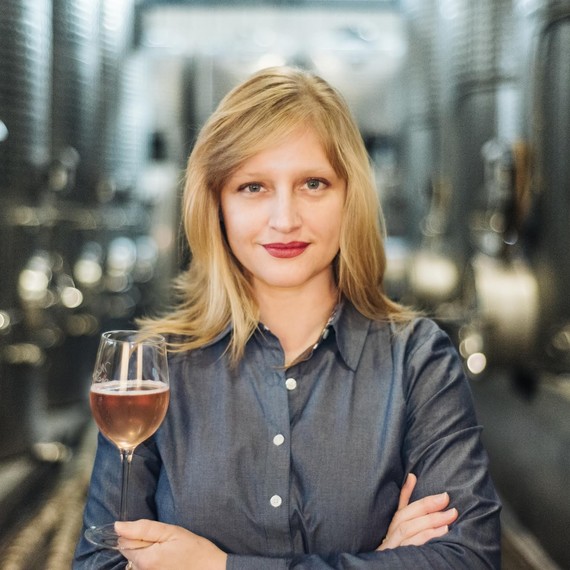 Alie Shaper, As If Wines
Alie Shaper has a comprehensive background in wine- after a stint as a beverage director for a restaurant group and working wine retail, she wanted to more fully immerse herself in the world of wine-- so she took a harvest job in Long Island's North Fork and essentially never looked back. The veteran of many projects as a consulting winemaker, sheis the founder of Brooklyn Oenology, whose wines have won numerous awards, and her newest project is her own label telling the story of her own creative journey, As If Wines. Alie shared with us the story of her As If Wines "Courage" Rosé:
"The As If Wines 'Courage' Rosé I think is the heart of the overall range of the wines. Not only do I most enjoy producing rosés, I absolutely love blending several varietals together, as I do with each of the As If wines. It represents me as both a person and a winemaker; it's about discovery, play, experimentation, and creativity - thinking outside the box, just trying things out, allowing for a wine blend to organically reveal itself to me, but all the while with a sense of direction of where I want a wine to go and trusting the process. To me, that's very much about how life unfolds; while success (in whatever form we believe defines it) is certainly delicious and what we all hope for, life is really all about the try. It's about mustering up the courage to take a thoughtful risk, embracing it, and enjoying the forging of a path just as much as its outcome."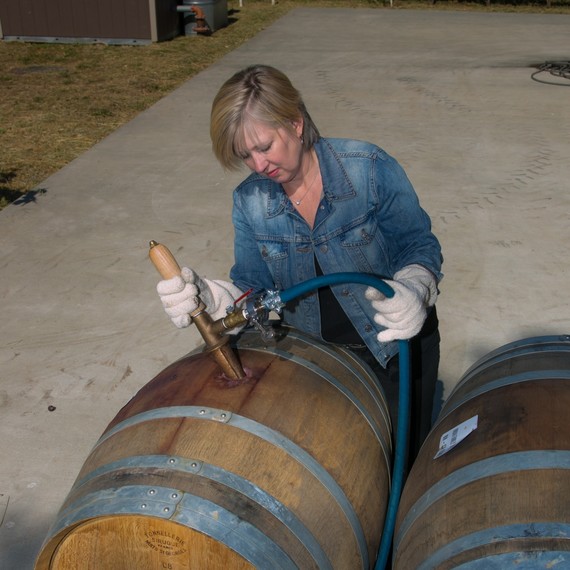 Kathleen Inman, Inman Family Wines
A Napa native, Kathleen started her eponymous winery in 2000, planting the Olivet Grange Vineyard in Sonoma's Russian River Valley. One one of things that defines Kathleen's winemaking is her dedication to environmental issues and 'natural' winemaking: sensitive farming combined with non-interventionist winemaking practices. The result is subtle and nuanced wines, a far cry from the overripe, rich, and -- dare we say it -- more masculine style prevalent in the Russian River. A lovely example of her elegant style is her OGV Estate Pinot Noir 2013.
"The Olivet Grange Vineyard Estate Pinot Noir is the a baby that I give birth to every year. I labor over this wine in the vineyard and in the cellar and I believe it is the epitome of my winemaking style and philosophy." Kathleen crafts all of her wines without any additions of water, acid, enzymes or tannins and ferments with the native yeast on the grapes and the naturally available bacteria -- and the results are indeed spectacular. With only 390 cases of this signature wine produced, get some while you can!
(LEARN: more about organic, biodynamic, and sustainable wine)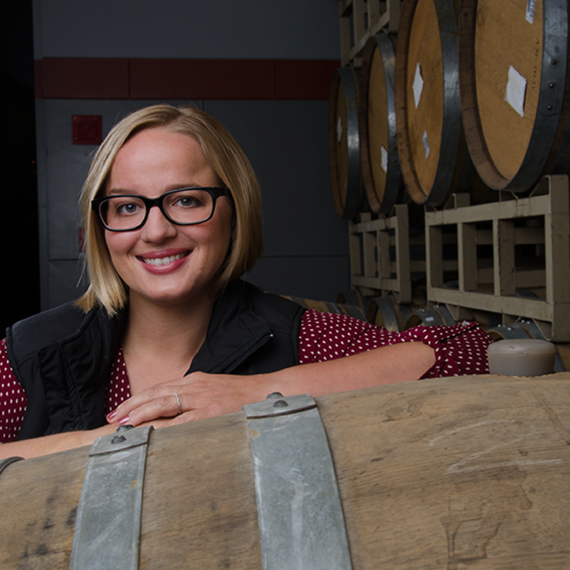 Amy Ludovissy, Viansa Sonoma
Originally from the Midwest, Amy Ludovissy first learned about winemaking in her parent's basement in Iowa. Her interest in wine then took her to New Zealand, Australia, Calistoga, and finally Sonoma County where she is currently the lead winemaker at Viansa Sonoma. Amy has an adventurous spirit and first made waves in Sonoma by planting and working with not-typical-for-the-region grapes such as Sangiovese and Barbera. Her favorite production, however, is her Ossidiana red blend.
"For me, this wine equally honors the art of farming and blending with the soils and climates of the region that is truly reflective in the flavors of the grapes through the vinification process", she says. "Each vintage of Ossidina offers a unique wine. Flavors, mouth feel, and acid vary due to changes in climate, farming, and maturity of vines. Unlike other art mediums, our goal (winemakers never work without a great crew) is to showcase the best of the vintage and vineyards with little manipulation ... the less work we do, the better for our final product."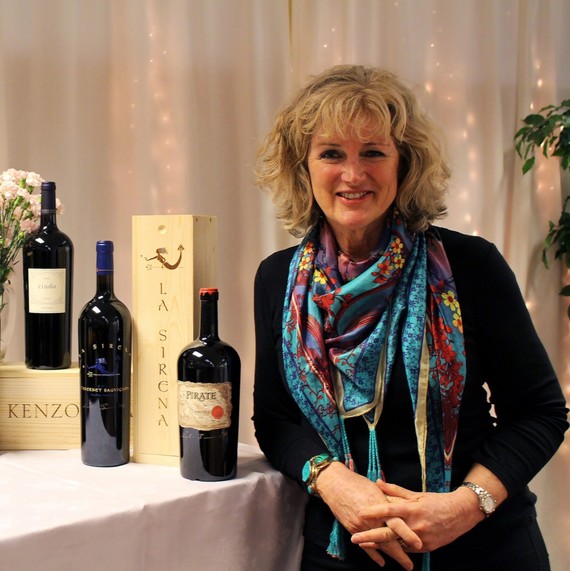 Heidi Barrett, La Sirena Winery
The woman that TIME magazine dubbed "The Wine Diva of Napa Valley", Heidi Barrett is true pioneer in American winemaking. With the gift of effortlessly integrating the art and science of winemaking -- combined with decades of experience and passion -- Heidi has been behind some of the most legendary 'cult' wines in California history, including Dalle Valle and Screaming Eagle. Her current project is La Sirena Winery, which produces only 2,000 cases a year in Calistoga. The wine she calls her 'crown jewel' is the La Sirena Cabernet Sauvignon. Cabernet is Heidi's favorite varietal to work with, and the one that she's most well known for -- and this particular bottle is a layered and complex Bordeaux-style blend. Drink it now, or let it continue to age and evolve in your own cellar.
LEARN: about Bordeaux wines