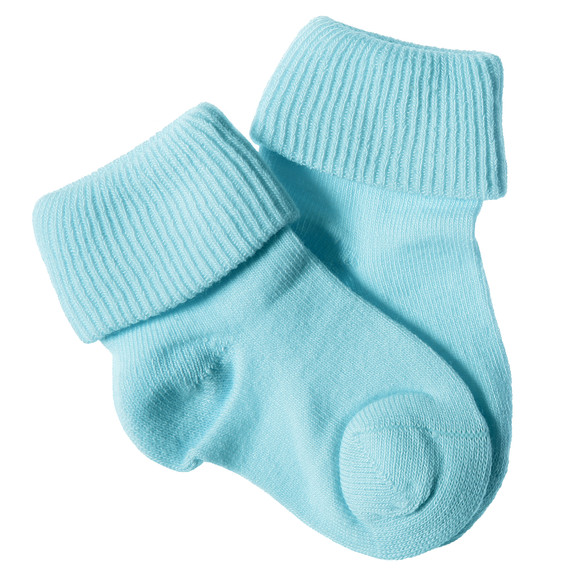 What can be cuter than a dog or cat wearing a pair of tiny knitted socks? However, at animal clinic Blue Cross Animal Hospital, which is located in various regions of the United Kingdom, the medical staff is outfitting their furry patients with baby socks for a special reason: It's for when they are under anesthesia.
For that reason, the clinic is asking for donations of washable handmade baby socks (or clean baby socks that are otherwise no longer needed) so that they can have a good supply for their four-legged patients. Aside from this being too sweet of a cause not to support, why are they asking for donations so that these animals can wear socks while they are undergoing surgery? Medical staff says that the animals often lose body heat through their paws when they are under anesthesia, which can slow down how quickly the drugs get to work and the animal's recovery time. The solution is as simple as it is cute — slip a pair of small socks onto the animal's feet to keep their body temperature stable.
[HERE'S AN IDEA: Knit Colorful Sweaters for Dogs Up for Adoption]
"One of our lovely volunteers takes the time to knit them in all different sizes for us, and bring them in," Nurse Adina Valentine said to the Grimsby Telegraph, "She is fabulous, and we are very grateful."
Many of the socks that the animals wear while they are recovering are indeed handmade and colorful thanks to animal lovers like Carol May, 64, from Mitcham, Surrey, as she is a frequent knitter for the animals at the hospital. In fact, for just two socks it takes Carol about 90 minutes to finish. Each of her pet-friendly socks are warm, colorful, and gratefully received by the staff at Blue Cross. She is a dog owner of two Yorkies (Benny and Buddy) and a recent widow who doesn't mind the timely knitting efforts, saying, "The Blue Cross really are a fantastic team and knitting little socks for the animals makes me feel that I'm giving something back to them for all the help they've given me. I can't praise them enough."
Another vet nurse, Elise Smith sees the sock donations and the idea of having the animals wear them as a good thing too, she tells Express, "At our hospitals, we have many ways to reduce this problem, but one rather quirky way is to put socks on all anaesthetised patients. We use donated baby socks, but we also have knitted socks."
Ready to get out your knitting needles to help furry paws in need? The local Blue Cross hospitals are accepting donations which can be sent to Blue Cross, 7 Hugh Street, London, SW1V 1QG.
And when you're done, knit a pair of cozy mittens: