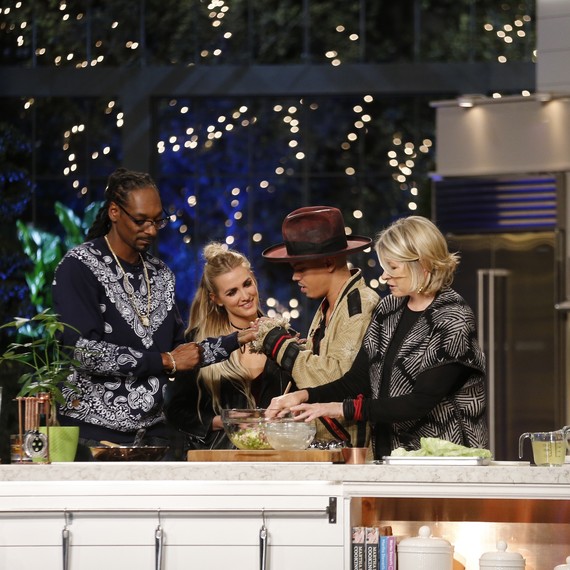 Martha and Snoop: They're just like us! Starring in a family-themed episode last night, the hosts walked us through some of their family traditions and histories. With lots of vodka in hand, they were joined by husband-and-wife Evan Ross and Ashlee Simpson Ross as they prepared childhood favorite recipes and revealed details about their past that we're sure will keep you thoroughly entertained.
1. Martha's go-to family drink involves lots of vodka
A daughter of Polish immigrants, Martha decides to make a traditional Polish cocktail for everyone to enjoy. "Straight vodka on the rocks is de rigeour" in her house, she mentions. Na zdrowie! (That would be "cheers" in Polish.)
2. Snoop's success is partly due to his family's strictness
When asked about the best advice that his parents have ever given him, Snoop responds: "To get out of their house and start my own mission" and path in life. "I think I'm doing a good job," he continues. We agree, Snoop.
3. Martha's favorite family dish is very complicated
Offering to prepare her mother's stuffed cabbage dish (golumpki), Martha enlists the help of guests Evan Ross and Ashlee Simpson Ross when cooking it on set—and, given how clearly complex the recipe is, we'll be sure to ask for some help when making it ourselves at home as well.
4. Snoop's childhood favorite is a tad bit easier to make
Snoop opts to prepare his family's spaghetti Bolognese. "I spell my Bolognese: B-O-W-L-YA-N-E-S-E," he exclaims. As the audience laughs at his joke, he calls in his uncle Reo.
5. The "spaghetti bowlyanese" recipe calls for that special ingredient we keep hearing about
Martha prods uncle Reo to reveal the sauce's secret ingredient: "Jesus!" he exclaims. "When you have Jesus in there, you don't need nothing else."
6. Both Martha and Snoop know how to roll...
...although we're dealing with two different types of rolling. While preparing her golumpki, Martha starts rolling the stuffed cabbage. "Let me know if you know how to roll," jokes Snoop. She laughs while commenting on what each of them really means when using the word.
7. Snoop's family likes to sing when cooking
While cooking his special sauce, uncle Reo starts humming a soulful tune while Snoop raps on top of it... Even Evan Ross eventually joins in! ("That was such a moment," he says.)
8. There's a specific sitcom that resembles Snoop's family
When asked what TV family is most like his own, Snoop mentions a classic '70s show: "I think it has to be the Good Times."
9. Martha's family didn't go on vacation often
Asking each other about the worst family vacations, the hosts and guests take a trip down memory lane. "I never went on vacation," reminisces Martha. "We couldn't afford vacations: [maybe] a day at the lake or a day at the shore." How about Snoop? "My worst family vacation was when we had to go visit my cousin at the penitentiary," he says. "We all [went] on a two-day trip to see this dude locked up in jail." Ha.
10. Snoop and Martha may become family
At the end of the episode, uncle Reo clearly hits on Martha -- and we're loving it. "I'm going to move back and give them space," jokes Snoop, who is sitting in-between them.