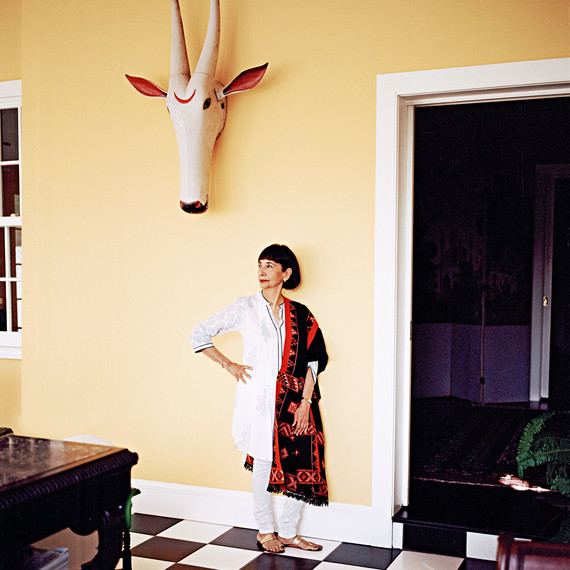 There is probably no better place to be a vegetarian than India. But Madhur Jaffrey's intimate, well-worn test kitchen in upstate New York is a close second. Standing at her old stove, the Delhi-born cookbook author is finishing up a toovar dal -- a soupy, homey dish made with hulled and split yellow pigeon peas that whispers, "Comfort food," when eaten over rice. "Watch this," she says brightly, tossing a generous teaspoon of mustard seeds into a small pan of hot oil. As the seeds pop, Jaffrey sprinkles chiles, garlic, and fresh curry leaves into the pan, creating a dangerous sizzle and a knockout aroma. She lets the aromatics fry for a few brief seconds, then pours the infused oil over a waiting pot of warm, turmeric-tinged dal. "The oil transforms the dish, giving it a roasted, concentrated flavor," explains Jaffrey, who adds that this technique, known as tarka, is common in Indian cooking. Legumes never had it so good.
When one is trying to incorporate more plants into one's diet, it's all too easy to fall into a salt, pepper, and olive-oil rut. But Indians have a totally different take on meatless cooking -- one in which vegetables, grains, and pulses (seeded legumes) are jolted into vibrancy with lively spices and herbs. "Indian vegetarian cuisine is so rich and varied because it's been developed over thousands of years in every region of the subcontinent. You can cook a potato a thousand ways," says the 83-year-old culinary doyenne, who's won seven James Beard Awards and published more than 20 books. (Her most recent is "Vegetarian India: A Journey Through the Best of Indian Home Cooking" [Knopf, 2015], from which many of these recipes came.) Another fun fact: She's also an actress -- her latest role is in the British TV drama The Good Karma Hospital.
Growing up in a wealthy, cosmopolitan family in Delhi, Jaffrey was raised on a diet typical to many northern Hindus, featuring produce they grew themselves: potatoes, onions, carrots, okra, eggplants, cauliflowers, cabbages, kohlrabi, peas, and tomatoes. "There was always a meat dish at dinner, but the emphasis was on the vegetarian dishes," she says. Today, Jaffrey and her husband, violinist Sanford Allen, "eat pretty much the same way -- fish at least twice a week, chicken perhaps once a week, and the rest of the time vegetarian." The six recipes she shares here -- five vegetable dishes and a succulent coconut-chicken curry -- make a magnificent feast together, but for busy weeknight cooks, each is a quick and fragrant meal on its own.
Learn About the 9 Spices You Need for Indian Cooking
Get Madhur Jaffrey's 5 Tips to Make Indian Cooking Easy
Get Madhur Jaffrey's Easy, Healthy Indian Recipes
And watch Madhur and Martha cook Zucchini Sabzi together: