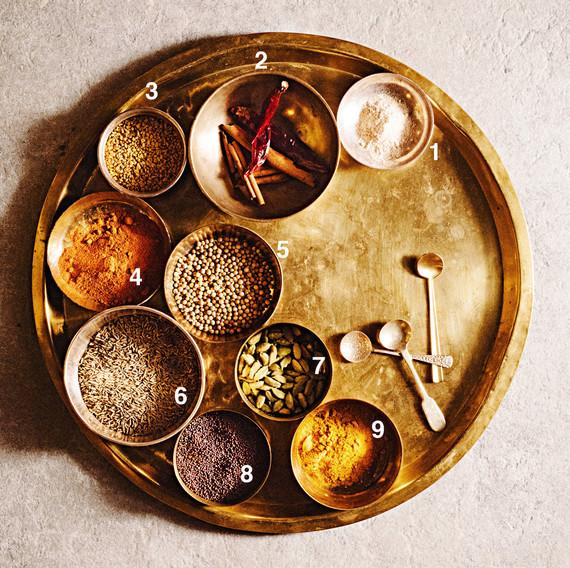 1. Asafetida
Extracted from the rhizome of the Ferula plant, asafetida adds a distinctive garlicky, truffle-like flavor kick to dals and other lentil dishes.
2. Dried Red Chiles and Cinnamon Sticks
Similar to dried Italian red pepperoncini, the most common Indian dried red chiles range from medium-hot to hot. (They're milder when used whole.) Cinnamon sticks season savory meat and rice dishes.
3. Fenugreek Seeds 
Fenugreek seeds have an earthy, slightly bitter taste that's especially well suited to eggplant and potato dishes.
4. Cayenne Pepper 
Cayenne pepper is the powder made from ground dried Indian red chiles.
5. Coriander Seeds 
Grind aromatic coriander seeds, then store the powder in a tightly closed container and use within a month.
6. Cumin Seeds 
Roasting brings out the nutty, perfumed flavor of cumin seeds; the spice is a common ingredient in many curries.
7. Cardamom 
Bleached whitish cardamom pods are less aromatic than the green ones. If a recipe calls for seeds, split them open and extract them.
8. Brown Mustard Seeds 
Indians use black or brown mustard seeds, but the yellow variety found in American grocery stores is a fine substitute.
9. Ground Turmeric  
Bright ground turmeric, derived from a root in the ginger family, adds color to many dishes. Be careful: It stains clothes easily.
Meet Madhur Jaffrey, the Queen of Curries
Get Madhur Jaffrey's 5 Tips to Make Indian Cooking Easy
Get Madhur Jaffrey's Easy, Healthy Indian Recipes
Watch Madhur and Martha use several of these spices in Zucchini and Green Pepper Sabzi: