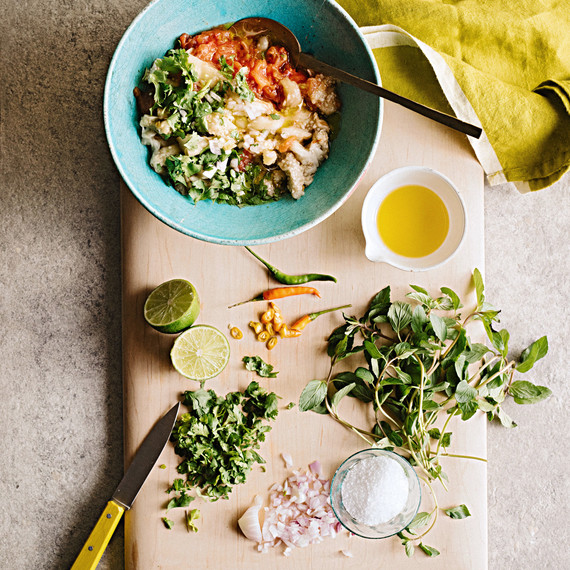 1. Grind Your Own Spices for Bolder Flavor. 
"I have a dedicated grinder for this," Jaffrey says. "Do small amounts, and save leftovers in airtight containers." Toast and grind coriander, fenugreek, and black peppercorns for Jaffrey's Chicken with Roasted Coriander in Coconut-Curry Sauce or cumin for her Yogurt with Cucumber and Mint and Fresh Cilantro Chutney.
2. Learn One Skill: Tarka.
"The technique of frying whole spices in hot oil takes just a few seconds," she says. "It gives them a roasted, intense flavor."
3. Know Your Fresh Chiles.
"Look for bird's-eye chiles, which are thin-skinned, bright green, slim, and hot. If you can't find them, use serrano." Add them to curries, dals, roasted vegetables, and more for a serious kick.
4. Don't Drown Your Rice.
The standby ratio of one cup of rice to two cups of water ends in gloppy grains, she says. "Wash and soak the rice, then use a proportion of one to one and one-third."
Get Madhur Jaffrey's Basmati Rice Recipe
5. Make It Ahead.
Most dishes are just fine refrigerated for a day or two, Jaffrey says. "And chicken curry tastes even better the next day."
Meet Madhur Jaffrey, the Queen of Curries
Learn About the 9 Spices You Need for Indian Cooking