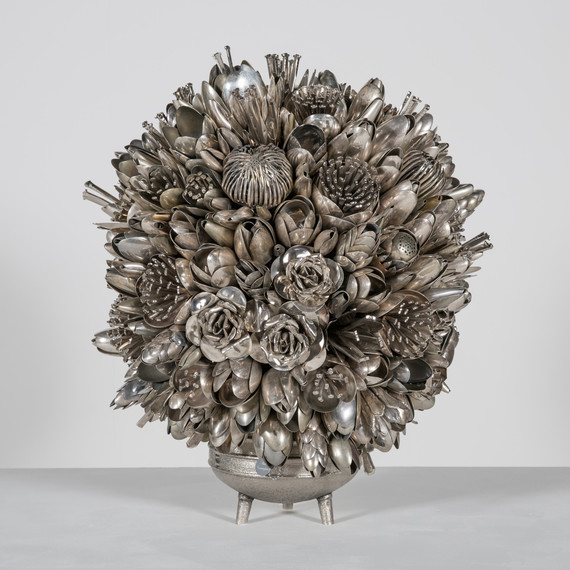 We're always impressed when someone can find the hidden beauty in everyday objects such as old silverware, denim scraps, metal bits... you get the idea. Luckily, crafty-minded people such as Ann Carrington are able to discover the pretty possibilities in discarded objects such as silverware and misplaced utensils.
In her art series, Bouquets and Butterflies, Carrington has created various large-than-life metal bouquets all from unwanted serving utensils. Yes, old forks, knives, serving spoons, and the like have gone into her creations. A cast aside cluster of forks alone is nothing to marvel at, but after Carrington has her way with them, they really are something to behold. 
Recently, her elegant floral-like clusters of silverware forming royal inspired flower arrangements and other sculptures in an installation at The Royal College of Art 2016.
[TRY THIS: Use Decoupage to Beautify Your Empty Bottles]
Carrington's work certainly has a royal quality to it as she was commissioned to create The Royal Jubilee Banner for the Queen in support for her diamond Jubilee. She has gone on to be commissioned for other works such as for the Waldorf Astoria and The Chiltern Firehouse. This past August, Carrington had an installation "Pop Goes the Weasel!" a large-scale solo exhibition to her sculptures opening at the Royal College of Art, Kensington, London.
By simply reading Carrington's creations does not do her work justice as it's mesmerizing to see spoons, pins, clothes, and other discarded items transformed into lovely artworks. Of course, this will leave your imagination wanting more. Follow Carrington on her Instagram and her website for more visuals of her work.
And if you feel like repurposing something old into something new, try our mittens project: